Penrith produced one of the great Premiership defences in 2022, qualifying for a third straight NRL Grand Final.
Here's how the year unfolded…
Round 1
Filling in for Nathan Cleary, Sean O'Sullivan helps guide Penrith to a season-opening 28-6 win over Manly at BlueBet Stadium in front of 16,901 fans.
Round 2
The Panthers hold off a strong finish from St George-Illawarra to record a 20-16 win at Kogarah. Viliame Kikau bags a double in the win.
Round 3
Newcastle's Mitchell Barnett is sent off in a high-scoring match at Carrington Park in Bathurst. The Panthers score five second half tries and win 38-20.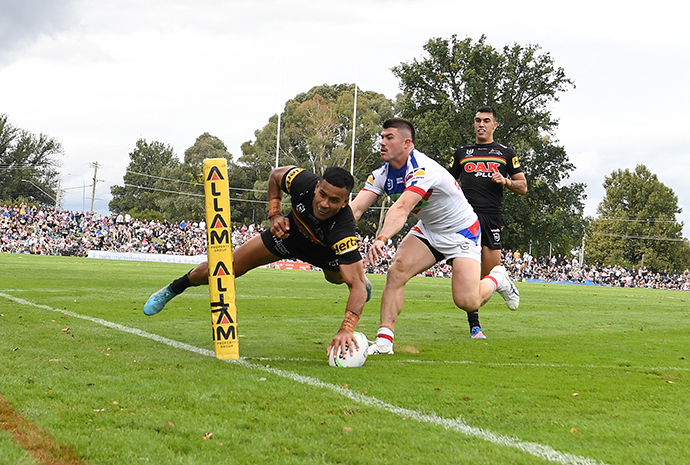 Round 4
Nathan Cleary plays for the first time in 2022, and despite an off night with the boot, leads the Panthers to a 26-12 win over South Sydney.
Round 5
Taylan May and Dylan Edwards score early tries as Penrith march to a 32-12 win over Canterbury at CommBank Stadium. Nathan Cleary kicks six from six.
Round 6
Taylan May scores one of the tries of the season as Penrith record a 40-12 thrashing of Brisbane, winning their sixth straight game to start the year.
Round 7
After a tight first half, Penrith pulls away from Canberra in the second half, scoring four tries in a 17 minute period to help set up a 36-6 thrashing.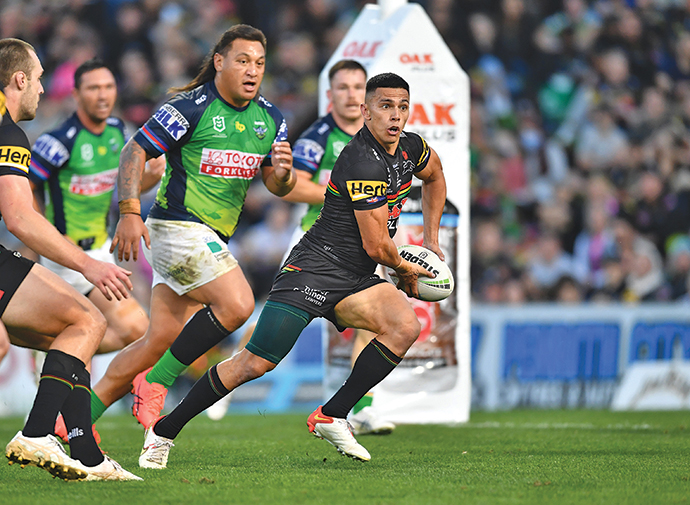 Round 8
Gold Coast take a surprise 4-0 lead into half-time, but the Panthers jump out of the blocks in the second half to eventually win 18-4.
Round 9
An eight match winning streak is ended when Parramatta records a 22-20 win over Penrith at BlueBet Stadium, Penrith's first loss at the venue since 2019.
Round 10
The Panthers turn it on in awful conditions in Magic Round, thumping a depleted Melbourne 32-6 at Suncorp Stadium. Izack Tago grabs a double.
Round 11
A Jarome Luai double helps Penrith to an 18-0 half-time lead over the Roosters at the SCG. The Roosters offer little in the second half and the Panthers win 32-12.
Round 12
Isaah Yeo scores in just the second minute to help Penrith take control against the Cowboys. The Panthers lead 16-0 at the break and win 22-0.
Round 13
Kurt Falls makes his NRL debut as an Origin-depleted Penrith surprises many by producing a 30-18 win over Canterbury at BlueBet Stadium.
Round 14
Nathan Cleary produces one of his best games of the season, tearing apart Newcastle at McDonald Jones Stadium. The Panthers win 42-6.
Round 15
The Panthers prove too good for the Warriors in Redcliffe, taking an 18-0 lead into half-time before a strong second half results in a 40-6 thrashing.
Round 16
A controversial night at the foot of the Mountains sees the Panthers continue a strong winning run, defeating the Roosters 26-18.
Round 18
An under-strength Penrith hold on to beat Wests Tigers 18-16 thanks to a late James Fisher-Harris try at CommBank Stadium.
Round 19
Stephen Crichton is hurt in a fiery encounter that sees Penrith eventually out-pace Cronulla to record a 20-10 victory at BlueBet Stadium.
Round 20
Nathan Cleary is sensationally sent off in a dramatic night at CommBank Stadium. Parramatta goes on to record a 34-10 victory in front of a strong crowd.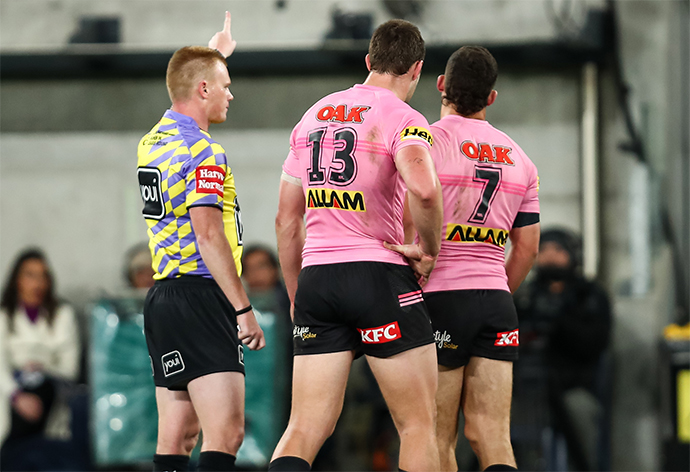 Round 21
In a match overshadowed by Ricky Stuart's post-match press conference, Penrith prove too good for Canberra in the nation's capital, 26-6.
Round 22
Penrith are held scoreless for the only time this season, with Melbourne taking advantage of an under-strength home team to win 16-0.
Round 23
Liam Martin proves the hero as the Panthers secure the Minor Premiership with a 26-22 win over South Sydney at Accor Stadium.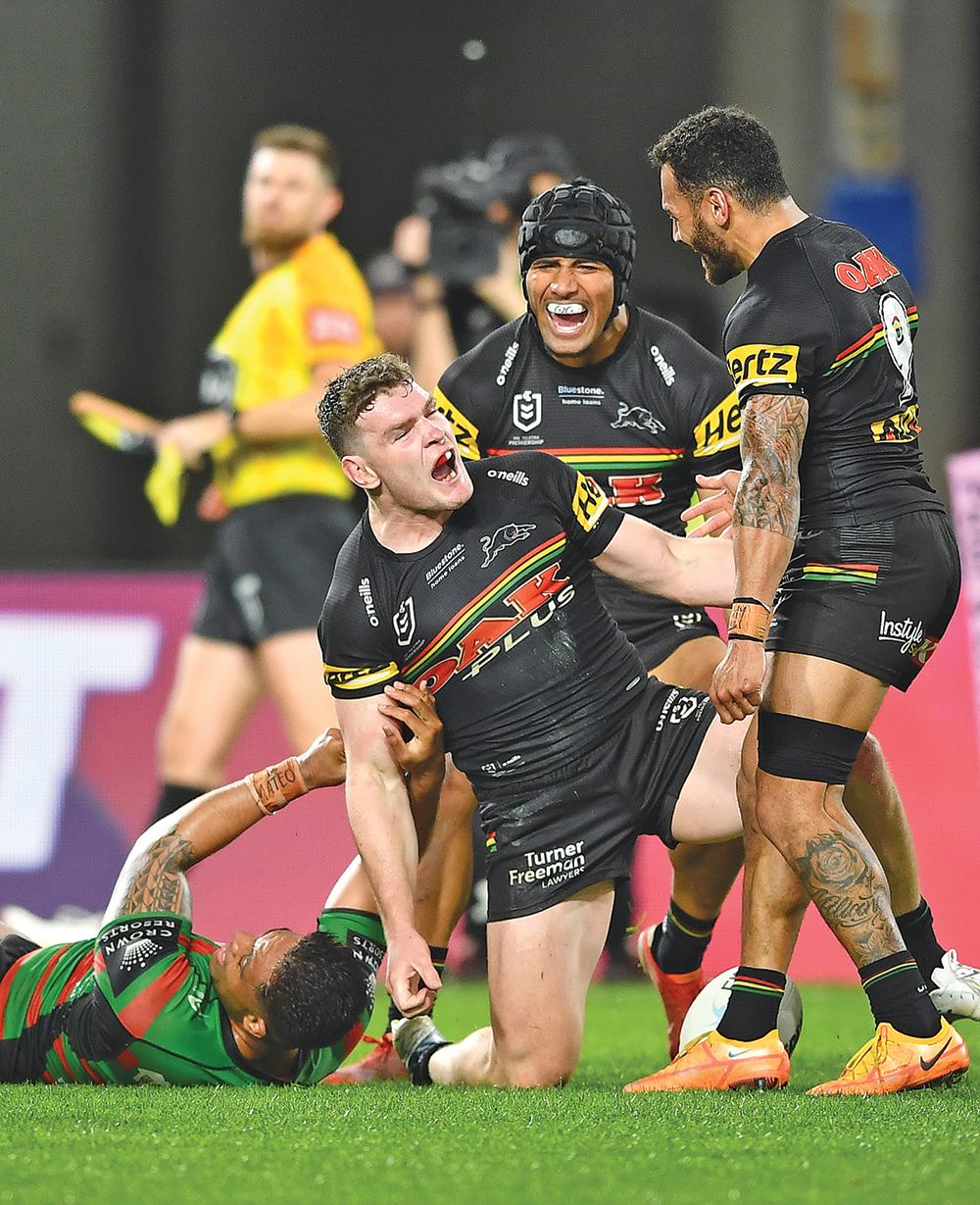 Round 24
Jarome Luai returns from injury and the Panthers demolish the Warriors in their last home game of the regular season, posting a 46-12 victory.
Round 25
A host of players make their debut as the Panthers rest most of the first grade squad in the final round against the Cowboys. Penrith go down 38-8.
Finals Week 1
Nathan Cleary returns from a five match suspension to produce a masterclass performance against western Sydney rivals Parramatta. Leading 7-6 at the break, the Panthers go on to record a 27-8 victory, their stoic defence a highlight of the opening weekend of the Finals.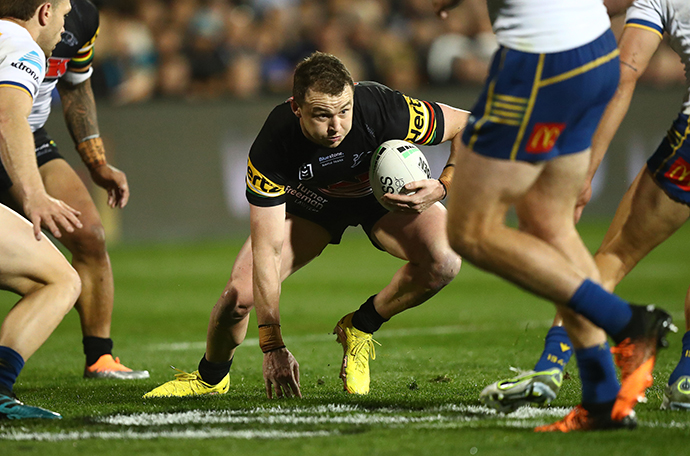 Finals Week 2
After going down 12-0 to South Sydney early and their Premiership defence at risk of ending a week before the Grand Final, two crucial tries close to half-time put Penrith back in the game. They go on with the job in the second half, eventually winning 32-12 to qualify for the Grand Final.