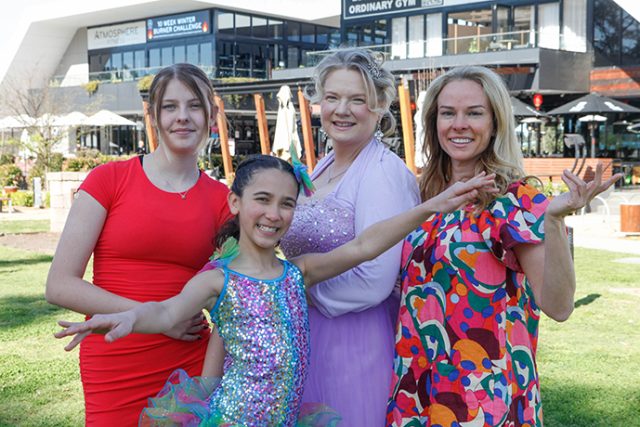 Penrith performers will be taking to the stage next week in Darling Harbour, as part of the Sydney Fringe Kids Week.
The show, called 'Kaleidoscope', was written by Jordan Springs resident, Lynsey Mackay, who couldn't be more excited to bring the show back after their first performance in 2019.
"It was an existing show, and the Sydney Fringe asked us if we could come back again," she said.
The show takes place inside of a kaleidoscope, and tells the story of how the black, white and grey tones try to take all the colour away. But, with the story concluding with the colours being saved, and the tones wanting to become colours too, Ms Mackey said that she hopes audiences can take a positive message from the show.
"The takeout is inclusion and acceptance and being kind and tolerant," she said.
11-year-old Vanessa Gamal-Devon plays a leading role in the show, named Unknown, who spends the duration of 'Kaleidoscope' trying to figure out what colour she really is.
Though she admits she loves the performance aspects of the show, having danced all her life, it's the friendships that she values most.
"It's really fun because everyone's really nice there," Vanessa said.
Along with dancing and acting, 'Kaleidoscope' also includes an ensemble cast of singers and contortionists.
But, Ms Mackay said it's the music that makes the show so special.
"We actually have a live band as well, so it's really nice for them because we have all different styles of music – jazz and blues and pop," she said.
"It's also really nice for them to hear a band, because most kids' shows use pre-recorded tracks."
For singer, Tiffany-Rose Burchett, this is the aspect of the show that resonates most.
"I really like the songs and the style, and how there's different types of songs," she said.
"I think the kids will really enjoy that diversity."
Having rehearsed the show every Friday for five weeks, the group couldn't be more excited to finally see the show on stage next week.
Though the show is aimed at children aged three to 10, performer Teri Hughes-Everard said that there really is something for everyone.
"I've had my older sons come to performances in the past, and my husband, and it's something that everyone can enjoy from lots of different perspectives," she said.
"Being so colourful itself, it's just visually and physically moving, and just really lovely to be a part of."
'Kaleidoscope' will be performed at ARA Darling Quarter Theatre on Wednesday, September 28, Thursday, September 29 and Friday, September 30 at 2pm. For tickets, head to sydneyfringe.com.