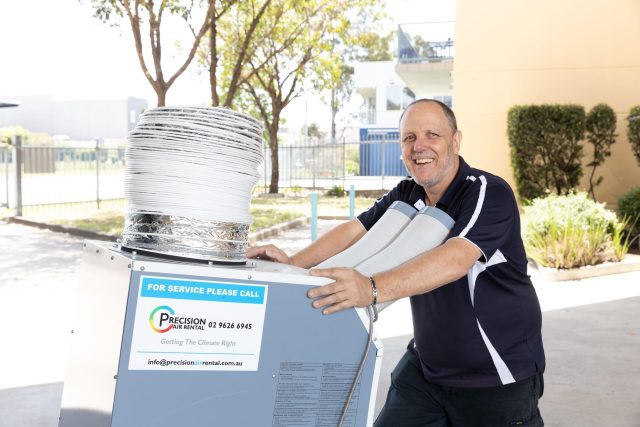 Imagine your employee struggling to focus on delivering that all-important report on a sweltering Sydney summer day. Odds are they're probably feeling the heat. Ironically, existing air conditioning systems ALWAYS seem to break down or struggle to perform properly when most needed!
The thing about summer heat is that it rarely discriminates. In Sydney, particularly Western Sydney, temperatures can hit the high 40s and cause great discomfort at home or at work. A potential alternative to the battle against the extreme heat of summer is to hire a portable air conditioner to ease the agony straight away.
Craig Boyle, owner of local air conditioning rental company, Precision Air Rental, outlines several advantages of hiring portable coolers when the heat is on.
Excellent in Emergencies
When an existing air conditioning system fails, it is difficult for the occupants to find proper, safe comfort in hot temperatures. It is also wise to remember extreme heat indoors during summer has been known to take lives.
Accidental damage or unexpected breakdown of aircon condensers can easily knock out an entire air conditioning system. "That can leave anything and anyone indoors exposed to strong heat. Bedrooms, kitchens, offices, meeting rooms, server and data rooms, garages, delivery docks – pretty much anything." said Craig.
"And if help is slow to find when repair professionals are handling peak season demand, it's the portable hire unit that can provide that immediate solution and ensure continuity of climate control with very little interruption."
As was the case last year, Sydney weather predictions again show high potential for heatwaves and heavy rainfall for the 2022-23 summer. With high heat and rain comes high humidity, another layer of discomfort when temperatures rise.
A major functional benefit hardly anyone considers is that portable air conditioning is set and ready to go. When you have the urgent need for a fast solution, the downtime is only as long as the time it takes for you to act to get the portable units on site. As far as remedies go, it is as near as it gets to 'immediate'.
Covers All Areas – Even Blind Spots
Even if you still have working ducted or split system air conditioning on site, the lesser understood problem of 'blind spots' can be the trigger for calling a hire specialist.
Blind spots are spaces within a house or workplace which aren't sufficiently serviced by the existing air con flow, meaning that spaces of hot temperature can exist in a building where the current air conditioning system is not good enough to cover the whole footprint.
And these blinds spots are most noticeable during the hottest months of the year. Hiring a portable unit at the start of the summer months to pump adequately cooled air into these zones is arguably the simplest and most cost-effective solution.
Highly Adaptable to Different Situations
Often, when the temperature in mid-summer takes a very sharp and sudden rise, the hottest parts of a building become far more evident. When this happens, one of the greatest advantages of portable air conditioning comes to the fore. That is, the capacity to use more than one unit to cool different areas at different times of the day.
"Depending on which way a building faces, it is likely to be exposed to direct sunlight for long periods of time during a summer day," said Craig.
"This means that in the earlier hours such as late morning, one side of the premises may be subjected to strong heat; then as the day moves through afternoon the heat intensity is likely to directly onto another part of the building.
Portable units can be placed in these areas and only turned on when needed, one at a time even. By directing air production and movement into the areas where it is most required at different times of the day, energy efficiency is maximised because the conditioned air is not being pumped from a duct or vent that is far away.
But, as it does every year, the summer tapers out and the atmospheric heat starts to go down. So how do you handle the in-house demand for air conditioning when the sun isn't as strong, but air conditioning is still required?
As hired air conditioning units come in a variety of sizes and output capacities, a simple scale-down to a smaller unit can also fill the need.
Upkeep and Continuity
Keeping portable air conditioning working efficiently and without interruption is not an issue. First of all, delivery and installation/demonstration is done by qualified professionals that make it simple.
If, on the rare occasion a maintenance issue does arise, the provider is expected to act quickly by sending properly trained, skilled staff to remedy the problem. This is a stock standard part of any arrangement with an air conditioning hire company. Of course, some do it better than others so it's always wise to do your homework in the pre-selection stage.
Being hire equipment, portable air conditioning units are all regularly checked and maintained so as to keep them operating at an optimum level.
Conclusion
By virtue of its client's circumstances, it is fair to say that any air conditioning hire company is in the emergency business. When your air conditioner breaks down or perhaps you don't have air conditioning at all, it can often feel like an emergency because the level of personal discomfort is so high.
You feel like you need to cool the air as quickly as possible and the concept of portable air conditioning as a short- to medium-term solution becomes viable and practical.
When the summer begins to pass and the cooler weather starts to come, the portable unit is simply removed by the hire company so you don't even have to contemplate about finding space to tuck it away for the winter.
So, when you consider your circumstance and choose comfort on the hottest of days, then yes, hiring an air conditoner is definitely worth it.