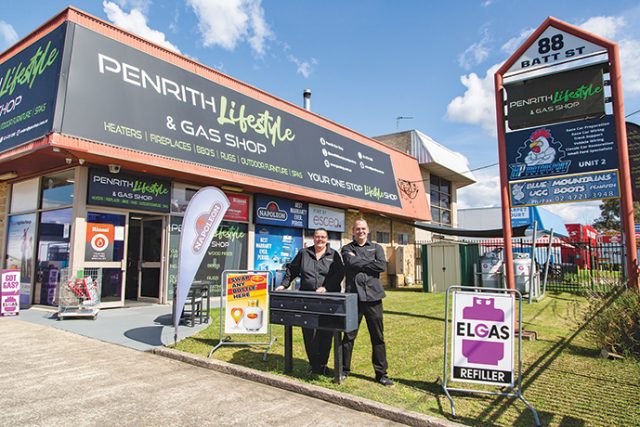 After over 20 years in Penrith, Penrith Gas Shop has well and truly built up their reputation as a quality seller of all things gas.
Now, with a new name, new management and a new look, it's never been more ready to serve the Penrith community.
Since being taken over by Sanjeev Mudaliar, Penrith Gas Shop has become Penrith Lifestyle and Gas Shop – a one-stop-shop for all your lifestyle needs.
For Matt Peters and Jodie Keaton, who have worked at the store for 15 years, this is a welcome change.
"It was done to show that we do a range of products, rather than just being known as 'the gas shop' and people thinking we just sell gas fittings or gas bottles," they said.
With the new name comes a host of new stock that's come just in time for many to settle back in at home.
"Everyone now wants to live at home, especially since the pandemic when we couldn't get out there," they said.
"We offer now the outdoor furniture, indoor and outdoor rugs, and a large range of barbeques. We're trying to cover every angle we can!"
Of the new stock items, Matt and Jodie see the Napoleon barbeques as a highlight, with the game changing technology not sold anywhere else in Penrith.
"They've come onto the market and adapted a few things. They've changed the regular gas barbeque into a gas/charcoal barbeque," they said.
"Gone are the days where you've got three or four different barbeques, now you've got one that can do them all."
The staff ensure the store has the same friendly atmosphere that keeps customers coming back, and brings new ones through the door.
"We try to help people as much as we can, and if we can't help them, we point them in the right direction," they said.
"Penrith, it's a tight knit community, and we have people all the time refer us to others, and I think that's what we strive for."
And it's this that the shop prides itself on, with the knowledge of Matt and Jodie, and the other staff giving customers a leg up.
"Being a licensed plumber as well, we can offer that further down the track as well, give people the peace of mind they are buying the correct items for themselves, and safety at the same time," Matt said.