Penrith City Council has refreshed its marketing to the community and public through its new Brand Policy.
With the draft policy being adopted at the Policy Review Committee Meeting on Monday night, "Positively Penrith" will replace the former "PENRITH IS HERE" tagline.
The change is the final stage of the Penrith Brand Refresh Project which began in 2021 after the current brand was endorsed by Council in 2012.
Used to establish its identity in the community and project a positive image of Council and the City if Penrith, the strategic positioning graphic builds on the well-recognised Penrith orange "P" which represents a marker, pinpointing Penrith on the map.
The policy states that Council's brand mission aims to "attract the right talent, investment and enrichment to stimulate a confident, productive, happy and well-connected community."
The visual logo and narrative tools will be used to demonstrate Penrith as being a great place to live, work or play and positions it a major regional city within greater Sydney.
Penrith Mayor Tricia Hitchen said it was time to revisit the strategy that has helped attract investment and create opportunities for local people.
"10 years ago, our brand made a bold and aspirational statement, speaking of our potential and positioning Penrith as a leader in the region," Cr Hitchen said.
"In that time our community has grown and become more diverse, we've undertaken a huge amount of revitalisation work in our city centres and seen a commitment to the Western Sydney International Airport, and a transformative new Metro rail line as well as the development of the aerotropolis.
"The brand refresh reflects the fact that we've lived up to our potential, we are a leader in the Western Parkland City and we will continue to kick goals for our residents and create a positive future for Penrith."
The brand narrative in the policy includes lines about what the community values from welcoming people, new ideas, creative elements and protecting natural resources such as Nepean River.
"We love to compete, and our sports people, teams and world class facilities reflect our leadership in sport. It's no surprise we aspire to be the adventure capital of Australia!" it said.
"We design and build the right infrastructure, with and for our community, to provide limitless opportunities for our people, businesses, visitors and investors.
"We choose Penrith, one of Australia's most liveable cities, because we're positive about our future and creating a better tomorrow."
Council will begin to implement the refresh branding from September 19 with existing resources to be update and then progressively when resources are due to renewed.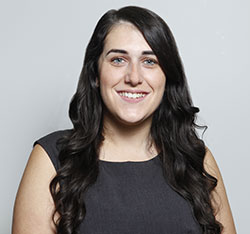 A graduate of Western Sydney University, Emily covers Local, State and Federal politics for the Weekender, as well as crime and general news.