Worried residents have been granted a win with work set to improve the safety of a busy intersection in Penrith.
The traffic lights that connect Union Road and Worth Street in Penrith have been a cause of concern for pedestrians trying to cross the road.
Resident of Union Road for five years, Linda Castles regularly walks her dog around the area and explained to the Weekender what causes the issue.
"Vehicles travelling on Union Road that go to turn into Worth Street towards the Plaza are turning on their green light, but they are looking up and don't realise that pedestrians also have the green signal to walk across the street," Ms Castles said.
"There is no red arrow on the lights that make the cars stop whilst the pedestrians have the right of way, so they see the green and think it is safe to go."
Ms Castles said she has made it her mission to improve the intersection after a series of incidents.
"I am hyperaware as I have almost been hit multiple times and have been abused or beeped by people thinking I am crossing when I'm not meant to," she said.
"My neighbour was actually crossing with her daughter and got hit by a car and had to throw her little girl out of the way."
Contacting Traffic NSW and Member for Penrith Stuart Ayres to report the issue, Ms Castles said she believes more awareness is needed around the built-up area.
"Ever since they upgraded Mulgoa Road more vehicles are using Union Road as a back way to get to the shops and the cars speed through," she said.
"Something needs to be done before any pedestrian is injured or even killed."
Mr Ayres said after contacting Minister for Metropolitan Roads, Natalie Ward, Transport for NSW (TfNSW) investigated the intersection, and the project will be nominated for funding under the next round of the NSW Safer Roads Program.
A spokesperson from TfNSW said it is currently finalising plans to upgrade the signals at the crossing.
"Following representation to Minister Ward from the Member for Penrith, TfNSW have investigated this intersection and are finalising design plans," the spokesperson said.
"Work to install the additional pedestrian protections at the intersection is expected to commence in the coming months."
Welcoming the news, Ms Castles still has some questions about the project.
"I would like to know how long it will take to get the funding and when it would be likely that they will be completely fixed," she said.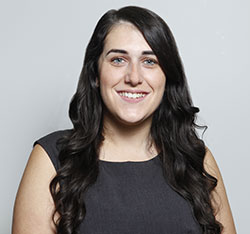 A graduate of Western Sydney University, Emily covers Local, State and Federal politics for the Weekender, as well as crime and general news.