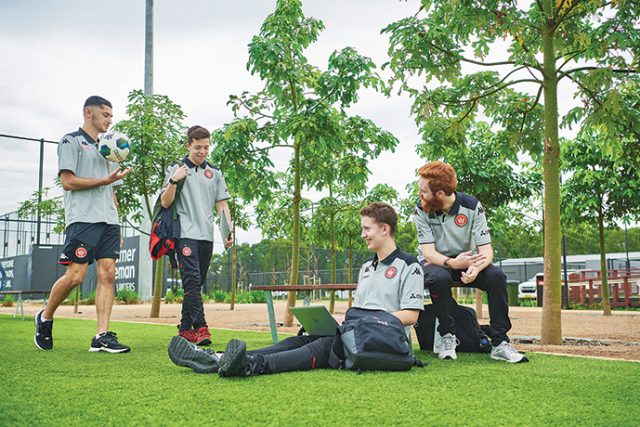 If you're looking for a career in sport, there's no better place to study than SEDA Group (SEDA).
SEDA is an applied learning education provider, but for Industry Diploma Manager, Dan Mahony, it's also a progressive education experience.
"SEDA is more a style of education, that's what I think when I think of the word SEDA," he said.
"Our programs are built around a wholistic approach to education, they are a blend of applied learning, industry connection, and quality training and assessment for our students."
This is particularly the case for the sport and business programs, created and delivered in partnership with Sydney FC and the Western Sydney Wanderers.
"For each of our programs, we sit down with our partners to better understand their business and how they operate, this allows us to link this information back to our own areas of study," he said.
"Naturally, we have our own program facilitators that deliver the training and assessment, but our real strength is welcoming our partner staff from all departments into our classroom to build on the base level curriculum as well."
The program, which sees students enrol in both a Diploma of Sport and a Diploma of Business, is taught over 36 weeks.
Though Mr Mahony notes that these Diplomas alone can be studied anywhere, it's the partnerships that are at the crux of what the programs offer.
"What we're able to do is contextualise it around a professional sporting environment and provide the access, so when you do go out the other side, not only do you have your dual diploma, but you've also got a really clear understanding around what that looks like in real world application as opposed to just case studies and scenarios," he said.
Graduates of these programs can gain direct entry into a range of tertiary courses. But, for those not wanting to follow this path, Mr Mahony suggests that the networks provided open a variety of doors across related industries.
"Our students have the opportunity to get involved with our industry partners in many ways, including exposure to the business, placement opportunities or even casual work in some cases," he said.
"We build a number of those elements into the course, and allow students the platform and launch pad to step into that space and then hopefully put their best self forward and see it progress from a small placement piece through to, in some cases, part time or casual employment, and who knows from there."
A new diploma program in partnership with Hoops Capital will be launching in 2023.
Applications are open now. For more information, visit seda.edu.au.
SEDA RTO Code 22503