While it can be a hard topic to talk about, nine people tragically lose their lives to suicide every day.
Ahead of World Suicide Prevention Day on Saturday, September 10, a St Marys psychologist wants to start honest conversations to spark changes.
Jessica Revill formed a grief support group called 'Angel Families' after her son died by suicide in 2020.
"Gregory was a 25-year-old autistic man who was a relatively happy child. He was very funny, very musical but from an adolescent his depression would appear and disappear again," Dr Revill said.
"No matter what we tried it didn't take for long and he took his life on July 5, 2020."
Using her expertise to guide them, the group meets on the last Sunday of each month at Panthers.
"It is a free space to be able to talk about your grief and talk about your loved one or acknowledge their birthday or anniversary without the room freezing up," she said.
"I remind people that nobody who is well does this. Suicide is a solution for the individual and people need to not feel guilty that they did not do enough."
Acknowledging there is good work being done for mental health by various community services, Dr Revill said more assistance from the government is needed to address issues.
"People with autism have six to eight per cent higher rate of dying this way so more specialised knowledge and intervention is needed because there isn't any," she said.
"There are just over 3700 psychiatrists in this whole country for 25 million people so if you go to kill yourself then have to wait six months to see a psychiatrist that is not going to work."
Early intervention is a key factor that Dr Revill thinks could save lives.
"I think a mental health curriculum from K through 12 that's not just dropped in but tested in the HSC would be beneficial," she said.
"You can bring people in as consultants to help you get through this but ultimately the individual is making the choices all along so if we give them more education about managing or identifying their mental health preventatively then you've got them on the team."
People who have been affected by suicide are invited to connect with other bereaved people in the community for a commemorative walk to share their experiences.
"We will be meeting outside East Bank on Tench Avenue on September 10 at 8am and I will be holding a sunflower which is the suicide flower," she said.
To get in touch, email [email protected].
If you need support, call Lifeline on 13 11 14.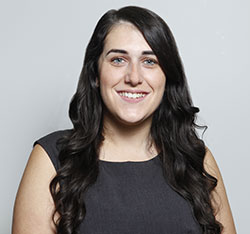 A graduate of Western Sydney University, Emily covers Local, State and Federal politics for the Weekender, as well as crime and general news.