Karen McKeown will have a second tilt at winning the state seat of Penrith at March's election after being endorsed as Labor's candidate.
The former Penrith Mayor will take on sitting MP Stuart Ayres in a re-match of the 2019 State Election.
Cr McKeown has sat on Penrith City Council since 2004, serving as Deputy Mayor in 2006-07 and Mayor in 2015-16 and 2020.
Running against Mr Ayres in 2019, Cr McKeown said she is committed to the challenge again after being pre-selected unopposed.
"My commitment and what I hope to achieve certainly hasn't changed from 2019," Cr McKeown said.
"I have dedicated the last 18 years to being on Council with integrity, openness, transparency and I just want to do the very best I can to deliver for the people of Penrith."
Living and raising a family in Penrith with her husband Brendan for the last 34 years, Cr McKeown said she will work to improve the day to day life of locals.
"People always speak to me about the cost-of-living, the cost of getting to and from work, being able to afford health services and access to services," she said.
"It is all good and well to have a beautiful, shiny hospital but if we haven't got staff to look after our residents then what is the use of any empty shell? Having enough teachers in our schools and attracting the right people to teach our kids is always a priority."
Labor believes the mood for change is starting to emerge in Penrith.
"You don't win government or stay in government by not listening to your residents and I think maybe that is where this State Government has lost touch a little bit because I believe they have stopped listening to people," she said.
"I think they have started dictating to people. That happened federally to their detriment, and I can see that happening now so my intention is to be out, not just talking to people, but hearing what the concerns are and getting into parliament to do something."
With Mr Ayres recently resigning from his Ministerial roles and as Deputy Leader of the NSW Liberal Party following an investigation into his conduct, the stars could potentially align for Cr McKeown.
"He (Mr Ayres) has worked hard for the area. You couldn't deny that but sometimes you have to see the writing on the wall and possibly move on," she said.
"It is a matter for himself, and I wish him well in whatever he chooses to do and it will ultimately be up to the people of Penrith to decide who they believe will be the best person to represent them in the state parliament.
"I am really looking forward to it and hope the people of Penrith give me the opportunity to represent them in a Minns Government."
Penrith is held by Mr Ayres by a slim margin, made even tighter by redistribution ahead of the next election.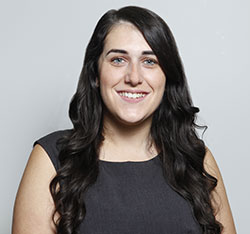 A graduate of Western Sydney University, Emily covers Local, State and Federal politics for the Weekender, as well as crime and general news.