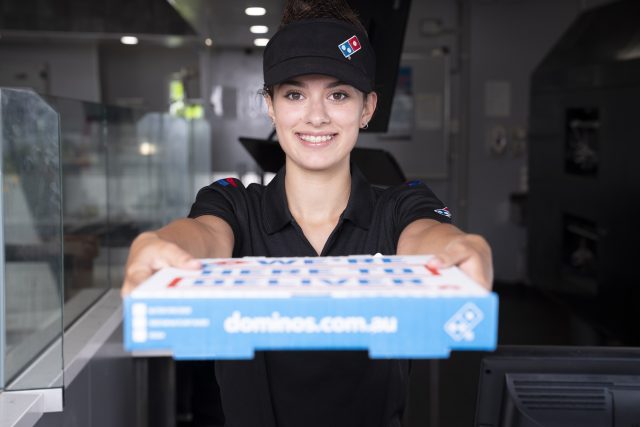 Pizza chain Domino's is having a major recruitment drive tomorrow.
More than 1,000 jobs are on offer across Sydney and all you need to do is turn up. From 3pm–7pm on Wednesday, August 17, those keen to get a foot in the door at Domino's can visit any of the participating stores where they will receive an on-the-spot interview with the local franchisee or store manager.
Domino's franchisee Zane Zappacosta, who owns and operates eight Domino's stores in Sydney, said he was looking forward to meeting potential new team members and providing employment opportunities to local communities across Sydney.
"Across the 119 stores participating in this Sydney-wide recruitment drive, we are looking to employ more than 1,000 team members," he said.
"At Domino's, we pride ourselves on being a fun and supportive place to work and we're passionate about finding the right people to join our teams to make, bake and take Hot & Fresh pizzas to our customers.
"Domino's is a people-first business, and our stores are a great place to gain important life skills and grow both as an individual and professionally.
"We want to make it easy for those looking for a role to apply for a job at Domino's, so I encourage anyone out of work, looking for a change, or even for their first job to visit their local store on Wednesday between 3pm – 7pm. You quite literally just have to turn up with a great attitude and an eagerness to learn! It's as simple as that.
"Many of our franchisees, as well as our ANZ CEO David Burness, began as Delivery Experts, delivering safe, hot meals to their local communities. It just shows you never know how far a career in pizza might take you.
"If you're passionate about all things pizza and think you might have pizza sauce running through your veins, then we look forward to seeing you on Wednesday!"
Domino's stores in Emu Plains, Erskine Park, Cambridge Park, Glenmore Park, Kingswood, Penrith, Ropes Crossing and St Marys are all taking part.