If you are anything like me and have a love of our great Australian country and rural towns and villages, then I suggest you read on as I rule the thumb over the New South Wales splendour of Yass.
As the mass exodus from our major cities continues around the country, some of our larger rural cities and towns are certainly getting some attention.
Yass sits just over an hour's drive from the nation's capital and a very straight forward 2.5 hours from Sydney, and is certainly getting some well-deserved notice of late.
Although there are endless jokes about the town being a variant of "Yes" it is more likely that it is a Ngunnawal word "Yhar" which reputedly meant "running water". It was colonised with the help of explorers Hume and Hovell while on their expedition between Sydney to Port Phillip in 1824. In fact, if you are a seasoned walker you can rediscover part of their route between Albury and Yass. The track is around 440 kilometres long so best to prepare.
Anyway, I am not here to give you a history lesson, I just want to share with you the good word on some of what makes Yass a destination to say yes to.
The Globe Inn – will take you back in time to an era when accommodation houses were all about style, warmth and comfort. Originally built back in 1847 servicing the town as an Inn, the ballroom became notorious for all the major events in the town so its walls have many stories buried within. Owners Julia and Charlie de Nanteuil are invested in providing their guests with the ultimate experience when visiting and that shines through as soon as you meet them.
The rooms have of course been updated over the years and the comfort level is superb with all the rooms having their own personalised charm. However, it is the essence of the building and its history that seems to radiate through the property as a whole. It's captivating to be honest and when you stay here you will certainly feel it, I guarantee. You don't get to experience places like this in the bigger cities, as most have been demolished for blander versions of what was so special back in the day.
Take time to relax in the cheerful rear garden. The massive front veranda is also a special spot that requires your attendance at some point during your stay. You also might like to take a moment reflecting on the day's activities while you sip on one of the local cool climate wines by the roaring open fire in the main dining room's sitting area. Breakfast is an absolute treat as well and Julia certainly delivers the goods here. Fresh fruit and granola compote with poached pears welcomed me on my stay, followed by good old country style bacon and eggs with some added special extras. The Globe Inn is the place to stay when you visit Yass, so make sure it's on top of your list.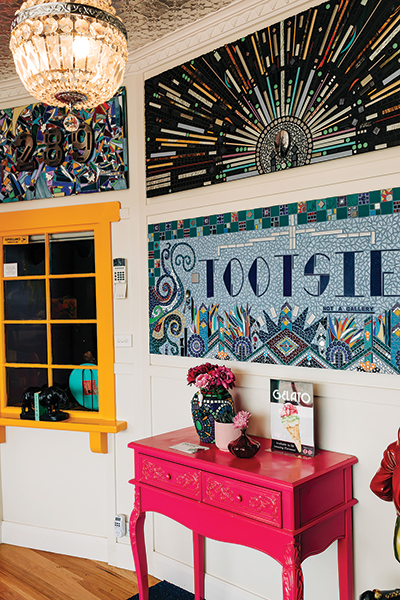 Tootsie Café and Gallery – well straight up I have to say, if you are feeling a little flat and need something to brighten your day Tootsie will certainly do that! Wow, I just love it here. It's like every colour imaginable has found a place in this restored old service station.
In fact, it was one of the first service stations between Melbourne and Sydney on the old Hume Highway and surely saved a few travellers from running empty over the years.
Purchased in 2013 by Cayla and Chris Pothan they went about bringing the building back to its former glory. With passion and creative love and a lot of man power the building was restored to its former glory including the return of the Art Deco façade that had once stood impressively. Cayla, who is an artistic soul, has absolutely put her creative stamp all over the premises and the results just make you feel a little magical from the moment you enter.
Besides the kaleidoscope of colour throughout, there are artworks and eclectic pieces placed thoughtfully throughout the whole premises. To be honest you could easily spend a few hours here trying your best to take it all in. I know I have to return as I failed!
Oh, apart from the artistic offerings here, I forgot to mention it is also the coolest little café. Here you can snack on an array of savoury or sweet jaffles and an absolutely creative twist to many choices of hot or cold drinks. To finish off though, you have to try one of the 24 flavours of gelato or maybe rip into a super sundae that will take that happy feeling to the next level!
Yazzbar – is going to rock your world, well it's definitely going to put a swing in your step, that's a certainty! The coolest venue in town, beyond any shadow of a doubt with the combining factors of, delectable delicacies that focus on local produce, the region's best cool-climate wines and available spirits, mingled with live music that has showcases genres including, blues, jazz and the occasional surprise performance.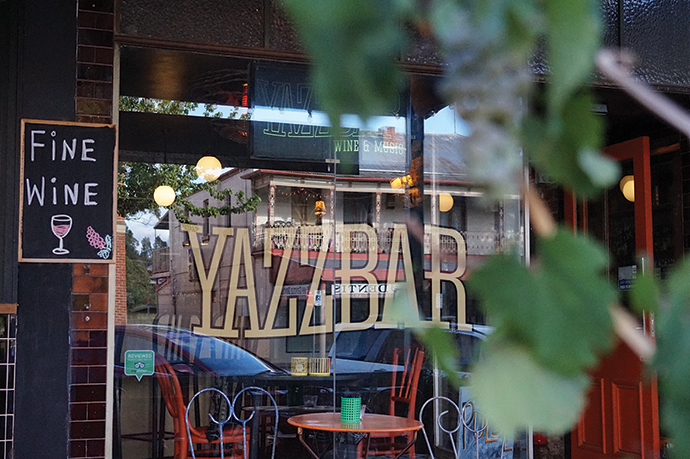 Relative new owner and mistress of the funky feel and vibe Deb Hamilton took over from original owners Harvey Walsh and Penny Carlisle just 12 months ago and is taking what was a high set bar to even greater altitudes and that comes from Harvey himself who I had a fantastic conversation with during the evening. In fact, that is another of the alluring components of Yazzbar, the people that you meet there. I honestly don't think I could have had a better experience.
The alfresco area had a warmth about it even if the temperature said otherwise. The tapas style cuisine and the perfect pizza menu will certainly satisfy the appetite. The wines, sublime! The garnish on the cocktail so to speak, had to be the care, commitment and conversation I had with the dude of dudes behind the bar! Just 'Jack' as he introduced himself to me as, not only was in his element when procuring the perfect drink, but his manner and engagement with the customer was warming to experience.
Visit www.thetravellingguy.com.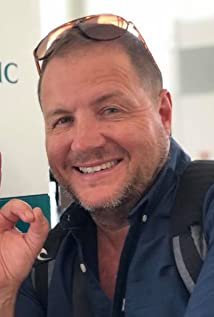 Scott McRae is an accomplished actor, entertainer and travel writer. Scott is 'The Travelling Guy'.