Despite being an audience favourite from the beginning, no one was more surprised watching the finale of 'The Voice' last year than Bella Taylor Smith, who watched herself take the crown from the comfort of her home.
"We filmed the ending in April and it didn't air until September, and so even when I was sitting on the couch and my name was called, I still didn't believe it," she said.
"Through the whole process I just really tried to take it one step at a time and not get ahead of myself, but it was probably to the point where I still am a little bit shell shocked."
Since then, Bella's life has been nothing short of a rollercoaster, having taken no time to release music of her own, such as her smash hit singles, 'Nice To Know Ya' and 'Look Me in the Eyes'.
"Coming off a TV show, it's sometimes hard to get people to engage with your career outside of the five per cent of you that they get to know on television, so it's been good being able to write and release music that I'm passionate about, and I've gotten to work on it all and produce it all and write it all and release it all with my fiancée, which has been the best," she said.
Over the past few months, Bella had the opportunity to take this new music on tour alongside Guy Sebastian – an experience which she said was "surreal".
"It's been crazy, and such hard work, but such rewarding work," she said.
"I've gotten to meet so many people who had supported me through the show, and I think my favourite thing is to sing in front of people and be in the same room as others and just share that moment, so I got to do that 20 shows in a row, and my fiancée got to come with me and was my musician and producer for it all, and I just learned so much from [Guy] and his team."
But now, it's her turn to take centre stage, with Bella about to begin a tour of her own.
"The whole time during Guy's tour, I was really shocked because I did the support and then got to sing with him in his set, but for my support set, so many people came early, and I think I kept reconciling with the idea that these are Guy's fans and Guy's audience, and I'm just lucky that I get to be a part of it, which I absolutely am, but coming to terms with the fact that people are paying to come and see me is loopy for me," she said.
Bella said that her upcoming show in the Blue Mountains later this month will be fun for all ages.
"[Audiences can expect] lots of beautiful, meaningful, soulful singing, some covers, some unreleased music, and heaps of fun!" she said.
Last year's winner of 'The Voice', Bella Taylor Smith, will be on at Blue Mountains Theatre in Springwood on Saturday, July 23 at 8pm. Tickets are $55. For more information or to book, visit bluemountainstheatre.com.au.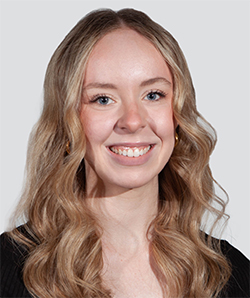 Cassidy Pearce is a news and entertainment journalist with The Western Weekender. A graduate of the University of Technology Sydney, she has previously worked with Good Morning Macarthur and joined the Weekender in 2022.