There will be more iconic chip brands made in western Sydney with the NSW Government giving the green light to a $222 million Development Application.
Snack Brands Australia announced this week that it has been granted approval for a new manufacturing, warehousing and distribution hub in Orchard Hills.
The company behind brands such as CC's, Thins, Kettle and Cheezels is planning to build a state-of-the-art manufacturing facility alongside its existing warehouse on Distribution Drive.
The two centres will eventually be connected to consolidate its operation and boost production.
Snack Brands CEO Paul Musgrave said once the second stage is complete the business' employees should increase from 120 to 400 per day over three shifts.
"This approval marks an important milestone in bringing our vision into reality. We now have the necessary approvals in place to begin construction on a facility that will enable us to service the growth we are continuously building with our customers for the next 30 years," Mr Musgrave said.
"We will be securing manufacturing jobs in the Sydney metro area and driving this in an efficient and sustainable structure which is a win for all stakeholders."
Mr Musgrave confirmed that work on the project is set to begin in coming months.
"We can commence construction around September or October and that process will take about 12 months," he said.
"I can imagine we will be commissioning our first lines in early 2024 and it will be around mid-2025 that the whole transition is completed."
State Member for Mulgoa, Tanya Davies who visited and toured the factory on Tuesday afternoon, said she was proud that the State Government could approve the proposal that will also support 500 construction jobs and boost the economy.
"As a local member I'm always excited to see businesses not only establish a footprint in western Sydney but seeing the potential of western Sydney and backing it up with further investments so congratulations to Snack Brands," Ms Davies said.
"With the establishment of the new hub, they'll be able to increase production capacity to around 50,000 tonnes a year. From peeling to packaging, goods will be made, processed, and transferred from one location, saving time, fuel and reducing the number of truck movements."
Ms Davies said the growth of manufacturing jobs in the area benefits residents enormously into the future.
"This investment into expanding their site to be a one stop hub for their business is certainly a welcome opportunity for western Sydney residents," she said.
"The ability to work local and live local in this day and age is something so many people desire so we are focused on enabling that."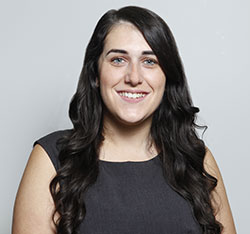 A graduate of Western Sydney University, Emily covers Local, State and Federal politics for the Weekender, as well as crime and general news.