Plans to add a seven-story hotel to a heritage-listed pub in the heart of Penrith are one step closer to reality.
The $23.5 million Development Application (DA) for the Australian Arms Hotel has been approved by Penrith City Council under the condition of deferred commencement.
Lodged in August 2020, the DA seeks to construct 115 hotel rooms and three levels of basement parking on the site on the corner of High and Lawson Streets, Penrith.
With deferred commencement consent granted, certain conditions have to be satisfied before June 2025 before Council will issue an operational consent for the development.
According to DA documents, these include liaising with Water NSW for approval and licences, along with further documents being approved, a signage strategy including heritage elements and environmental measures.
If all approved, the project, which spans across three parcels of land, would see the car park, substation, beer garden and playground to the rear of the building demolished to make way for the hotel.
The building would have six levels of hotel rooms, conference facilities, a pop-up cafe and a bar/restaurant would be included on the ground floor of the proposed hotel.
The Environmental Impact Statement (EIS) says the plan would retain the Australian Arms Hotel as a heritage item in conjunction with the new hotel "marrying the old and the new".
The Major Assessment Report stated that the proposed changed to the existing heritage listed pub are minor in nature and only involve rearrangement of a bank of toilet facilities located at the rate of the pub on the ground floor.
"The intention is to connect the new hotel to this area of the pub so that hotel guests using the hotel restaurant and lobby area can use the renovated sanitary facilities located at the rear of the pub," the document said.
"The vision intended for the streetscapes around the revitalisation of the city centre is to create an attractive location with a strong sense of place with buildings relating to streets and public areas."
Public domain work will also take place to Lawson Lane, such as repaving the roadway, new footpaths and landscaping.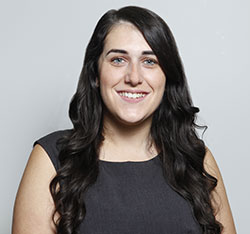 A graduate of Western Sydney University, Emily covers Local, State and Federal politics for the Weekender, as well as crime and general news.