Nathan Cleary's understudy, Sean O'Sullivan, says he plans to make a call on his long-term future in the coming weeks.
Off-contract at season's end, the 23-year-old local junior is expected to join new NRL franchise The Dolphins next year, where his father, Peter O'Sullivan, is currently in charge of recruitment.
Desperate to play more first grade footy, the Redcliffe-based club would be the perfect option for the talented playmaker, who's currently stuck behind NSW Blues halves Nathan Cleary and Jarome Luai at the defending Premiers.
Speaking openly about his future to the Weekender, O'Sullivan said he's close to finalising his next career move.
"I haven't done anything yet… I'm sure I'll come to a decision in the next couple of weeks, but I definitely have not done anything yet," he confirmed on Wednesday.
"I love it here at Penrith, but we'll just have to wait and see."
If O'Sullivan joins his 'old man' north of the border it wouldn't be the first time the pair have linked up.
In 2018, he signed with the Roosters where his father had a very long association, and then in 2021, he joined the Warriors where Peter was Recruitment Manager at the time.
O'Sullivan said just because his Dad works for the Dolphins now, it doesn't mean he's destined to play there.
"I think that's just an easy link for people to say I'm going there," he said.
"I'll probably sit down with my manager in the next week or two and we'll cross that bridge when it comes.
"I'm not too sure where I'll be next year but I honestly love it here [at Penrith] and I can't see myself ever leaving."
Undefeated when he's a member of Ivan Cleary's first grade team, Penrith officials would love for O'Sullivan to remain at the foot of the Mountains, but they also understand the Glenmore Park Brumbies junior strongly desires to play regular NRL.
In a small sign that he could be considering extending at the Panthers, O'Sullivan said sometimes one's happiness trumps all.
"When I came here, I knew I was behind Nathan and Jarome, and that was actually the reason I signed here in the first place," he said.
"I think I've developed into a better player because of them and what the coaching staff have done for me, I can't thank them enough.
"Obviously I do want to be a week in, week out first grade player and that's not going to happen here, but I am so happy here and when you've got to make decisions, happiness comes first.
"I've never enjoyed my footy as much as I have enjoyed it here and for that I'm so grateful."
With Cleary and Luai expected to not back up following Wednesday's State of Origin opener in Sydney, O'Sullivan will likely get another shot a first grade this weekend.
The halfback said he doesn't consider Sunday's match against the struggling Newcastle Knights a danger game despite so much uncertainty surrounding the final make-up of the team.
"That's kind of every week for us, you never know what's going to happen at training – you approach every week like you're going to play, [first grade]" O'Sullivan said.
"It's not really a danger game because the way that we prepare, we prepare really well every week and what Ivan, Ciro and Webby (assistants Cameron Ciraldo and Andrew Webster) have in store for us, you can't not be prepared. It will be business as usual."
O'Sullivan played his fourth game in Panthers' colours last week, a 30-18 win over the last-placed Canterbury Bulldogs at BlueBet Stadium. O'Sullivan said while it felt different out on the field with so many experienced players missing, he was proud to notch up another victory for his hometown team, especially with the Origin contingent watching on.
"Without Yeo and Romey, it felt a little bit different out there, but everything else was pretty much the same really," he said.
"I always talk to Nat (Cleary), and him and I spoke with one another at halftime. I think all the Origin guys were just proud of us and, after losing back-to-back games last year during Origin, we're just really happy that this year we could start off with a win during this Origin period."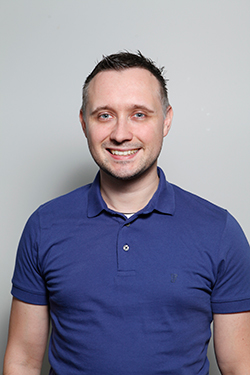 Nathan Taylor is the Weekender's Deputy Editor and Senior Sports Writer. He also compiles the weekly Chatter on the Box TV column. Nathan is an award-winning journalist, who has worked at the Weekender for a decade.