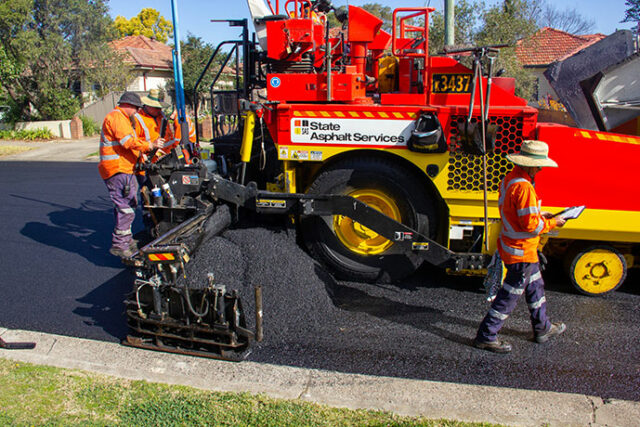 Penrith City Council is breaking new ground with a commitment to use recycled glass in all future road works.
Following a successful trial in Stafford Street, Penrith, where end-of-life glass collected from a local supplier was crushed down and used in the road's asphalt mix, Council will continue to use recycled glass for future road resurfacing works.
Council's review of the trial revealed incorporating glass in the bitumen delivered a win for the circular economy and a more durable road surface.
Penrith Mayor Tricia Hitchen said Council is proud to be leading the way in a move that will not only streamline road works in the Penrith Local Government Area but also lay the foundations for a more sustainable circular economy for our City.
"Council is always looking for opportunities to improve our services and following the recent flood events which wreaked havoc on Penrith's roads, we have been eager to implement preventative measures and long-term solutions," Cr Hitchen said.
"Through our commitment to the circular economy by using recycled glass in future road works, we are providing more robust roads for the safety of our residents and visitors, while contributing to the circular economy at a local level."
This month alone, Council is using recycled glass in projects at three sites – Copeland Street in Kingswood, Jamison Road in South Penrith, and Ninth Avenue, Llandilo.
Council will source and repurpose just over 257 tonnes of recycled glass for these projects which form part of our scheduled road reconstruction works.
"I am proud to share that these three projects will save more than 1 million recycled glass bottles from landfill and be put to good use, improving the longevity of our roads and reducing maintenance costs in the years to come," Cr Hitchen added.
"Penrith is encouraging other councils to consider this innovative plan that will futureproof our roads and is a win for the environment."
During 2020/2021, Council collected 14,965 tonnes of recyclable material from the yellow-lidded recycling bin which was diverted from landfill. Of this, glass currently makes up 30 per cent.