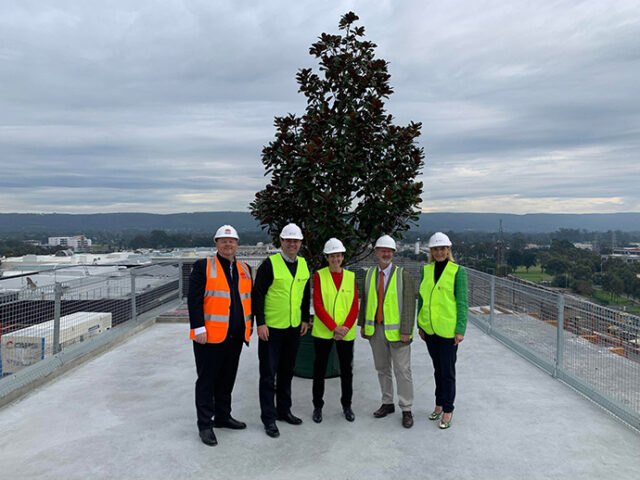 Hundreds of jobs will be carried out in a new state-of-the-art office building in the heart of Penrith that is set to be completed by the end of the year.
A topping out ceremony was held at the $90 million 50 Belmore Street development last Friday, marking the completion of the main building structure.
NSW Government agency the Western Parkland City Authority (WPCA) also announced that it will be the first tenant to relocate to the new building from its current head office in Parramatta which fulfills a 2019 election commitment.
The eight-storey building that was designed by Bates Smart, is being developed by the Sandran Property Group and construction company FDC.
Minister for Enterprise, Investment and Trade, Minister for Western Sydney and Penrith MP, Stuart Ayres said the project will create and support more jobs in the area.
"It is really great to see people investing in Penrith, investing in new high-quality offices and to have WPCA as the first tenant in the building sends a signal of confidence to the wider rental and office space market that the government thinks it is good place to work from," Mr Ayres told the Weekender.
"I would love to see this building full of office workers driving more demand for more builders and developers to continue to increase the quality of office space that is available here in Penrith."
WPCA Chair Jennifer Westacott said the agency is excited to move into the building that will have over 200 workers with diverse jobs.
"Being based in Penrith will ensure we're fully integrated in the community that we serve, and within easy reach of Bradfield City Centre, the Aerotropolis and Western Sydney International Airport," she said.
"This prime location will allow us to work side-by-side with a number of our major stakeholders and directly engage with the community as we help deliver Australia's greenest, most connected and technologically advanced city."
Sitting on the site where the Q Theatre was previously located, Deputy Mayor John Thain said it now has a bright new future.
"The COVID-19 pandemic hit many sectors very hard including the construction and development sector but despite the disruptions brought by the pandemic standing here today we see the realisation, persistence and commitment of many people," he said.
"I am confident 50 Belmore Street will add to the buzz of Penrith's city centre and contribute to the future vision of Penrith."
The development will provide 10,700 square metres of commercial space.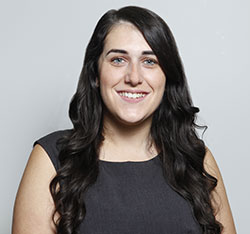 A graduate of Western Sydney University, Emily covers Local, State and Federal politics for the Weekender, as well as crime and general news.