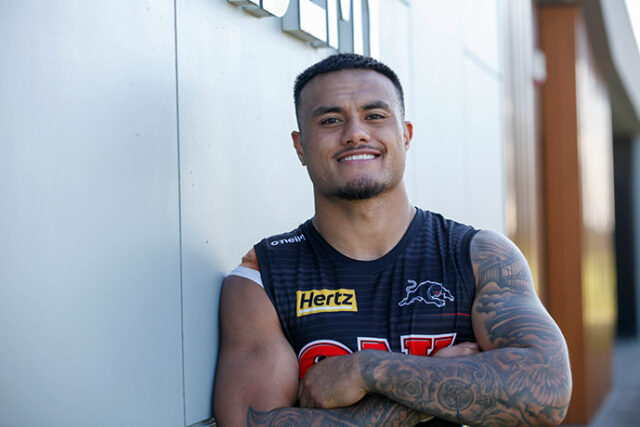 Spencer Leniu may only be getting a limited amount of minutes each game but it doesn't matter to him.
Whether it is with his swift foot speed or the aggression that he brings to each game, the young prop has been leaving an impact in Penrith's undefeated run to start the season.
"I feel like I've been doing my job," Leniu told the media on Monday.
"Whatever Ivan Cleary wants me to do in the team I'll do it to the best of my ability, no matter if I play five, 10 minutes however, I'll take those minutes with both hands and go full steam."
The 21-year-old has taken this year to perfect and work on his craft, and has looked to teammates Moses Leota and James Fisher-Harris for his biggest source of advice.
"He has been my biggest mentor," Leniu said of Leota.
"I try to be a sponge and absorb all the information I can get from those two.
"The biggest advice they've given me is not being complacent and always work on your craft, we've got quality young players coming through the system and if you get complacent someone will take your spot."
The Panthers are coming off a poor performance – by their standards – against the Gold Coast Titans, which saw the side unable to score a try in the opening half for the first time this year.
Despite the uncharacteristic dropped balls and missed tackles in the first 40, Leniu said that coach Cleary was calm when he addressed the team during half-time.
"He didn't need to say much, he was really calm and just told us this is an NRL game," he said.
"Ivan prepares our team to go down to the 80th minute every single week no matter what team we play against."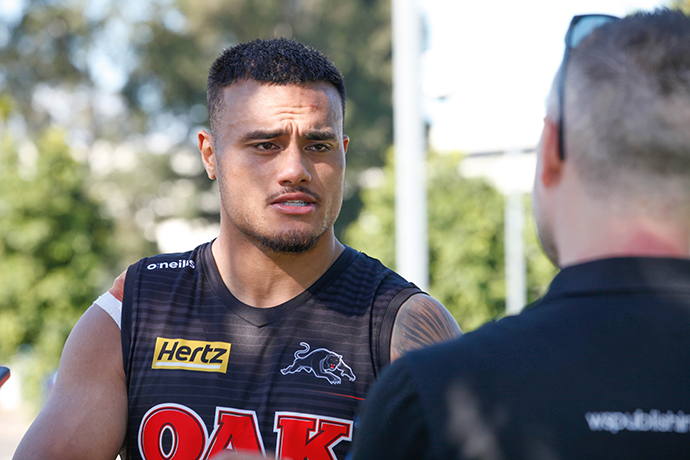 To the delight of Penrith fans, the defending Premiers were able to find their stride in the second half scoring 18 unanswered points and sealing the win.
"There is no game that's going to be handed to us, we've got to work for it and that's what we did," Leniu said.
The team's focus now shifts towards Friday night's much anticipated battle of the west blockbuster against Parramatta.
It will be the first time since 2019 that the Panthers will get to play the battle of the west at home in front of a sold-out crowd.
Last year's rendition of the rivalry was played in Queensland and in 2020 the NRL limited the attendance of spectators.
"It doesn't matter if there are 1,000 people or 20,000 people it's always a big game," Leniu said.
"We're just going to go into this game preparing for a big battle and focusing on things we need to improve upon from the previous week."