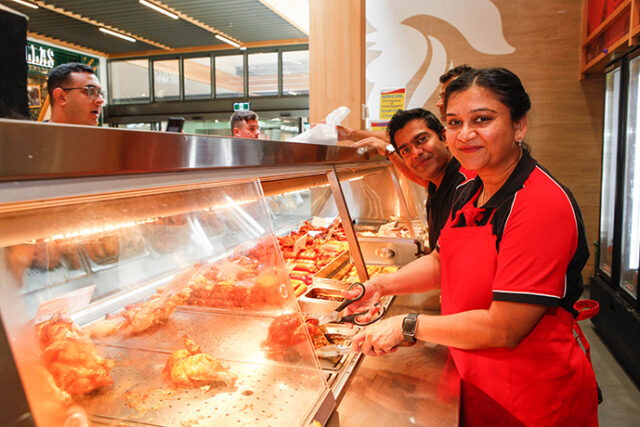 A fresh roast chook with a couple of delicious sides is the perfect meal at dinner time when you can't be bothered to cook after a hard day at work.
At Redly Chicken, located at Eastern Creek Quarter, you will find only the freshest chicken and best ingredients for your family meal.
Co-owned by husband and wife team Jitu and Jayshri Gadhesaria, the business specialises in fresh chicken, cooked gourmet chicken as well as pre-cooked and raw sausages. Redly Chicken also provide cooked meal deals for customers who just want to relax in front of the TV when they get home.
"We realise people are time poor these days, so we aim make our customers' lives easier by providing products that can be prepared easily and quickly at home as well as provide advice on cooking times and complementary sides," Jitu said.
Since the business opened nearly two years ago, Redly Chicken has already built up a strong following of loyal customers. They believe having the "freshest produce available" is key to their success.
"We order our stock daily for the next day ahead, and we rotate our stock daily to ensure our customers get the freshest possible stock," Jayshri said.
"We also offer many cooked products that our local competitors don't offer like marinated spareribs and crumbed products, which are cooked fresh daily – not frozen! And we allow the product to marinate overnight and cook them fresh in the morning to have the best possible flavour," Jitu added.
And while the amazing chicken keeps people coming back on a regular basis, it's their excellent customer service that separates them from their competitors.
"We show up to the store every day because we are there for our customers," Jayshri said.
"We will take any customer request and honour it even if it's not a current product offering.
"Some of our chickens come pre-marinated with our marinate flavours, but we also cater to our customers' requests."
Jitu and Jayshri opened the business in June 2020 during the first wave of the COVID pandemic. They said if it wasn't for their loyal customers, they wouldn't be where they are today.
"We want to take this opportunity to thank our customers for their loyalty," Jitu said.
"It's because of them that we were able to survive through numerous lockdowns, and we know our store wouldn't have survived if it wasn't for them."
Redly Chicken is located at 159 Rooty Hill Road South, Eastern Creek.
They are open seven days a week and are also available on UberEATS.
For more information or to pre-order, call 9677 1672.