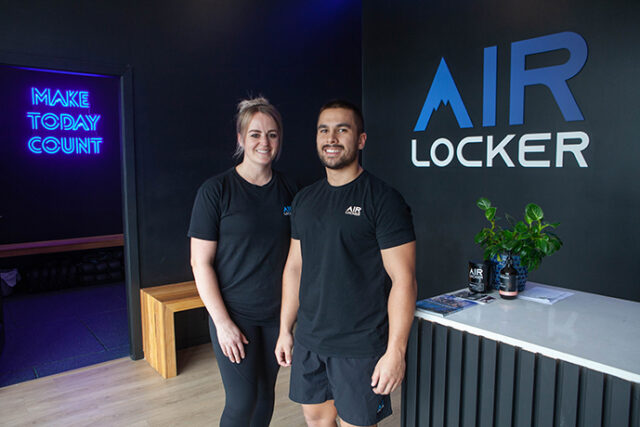 With the powers of altitude and family behind them, no gym in Penrith is doing it quite like Air Locker.
Air Locker provides a circuit-based group fitness environment which simulates training at high altitude to maximise the benefits of your workout.
As the owner of Air Locker's second franchise, Emma McKeown wants to make sure that Penrith not only sets the benchmark for physical training, but also for the community that they're able to create.
With Ms McKeown's parents on board as investors, Air Locker Training Penrith is as family-oriented as it gets, and this mindset extends to everyone who walks through the door.
"The thing that we're most proud of is the community that we've created here," Ms McKeown said.
"Everybody feels comfortable, everybody is happy here, and we get a lot of comments about how it feels like family coming in here, so that makes us really proud."
This is echoed by trainer Nick Mahoney, who sees first-hand the supportive environment that the franchise has cultivated.
"No one really cares how you look, or how fit you are," he said.
"Everyone's really welcoming and encouraging one another, so it's very cool in that sense."
Part of the reason for this is the diversity in the clientele that the gym has developed since opening last November.
"It's not just one demographic, there's all different shapes and sizes, ages, fitness levels, people wanting to reach different goals," Mr Mahoney said.
"It's really like the motto, 'altitude is for everyone', and that's already been shown in Penrith in just the short space of three months."
With big players like Mark Hughes taking on franchises around Australia and globally, Ms McKeown has every reason to think big. But, she assures that providing quality services to the Penrith community is her primary focus.
"Our main focus is our little family here in Penrith, and that they all love it and they all feel comfortable, that's the main thing – making people happy and helping them make positive changes in their lives," she said.
Air Locker Penrith is located at the Penrith Homemaker Centre. Visit www.airlockertraining.com.
Want seven days free training? Text your name and WEEKENDER to 0435 352 750 to claim!