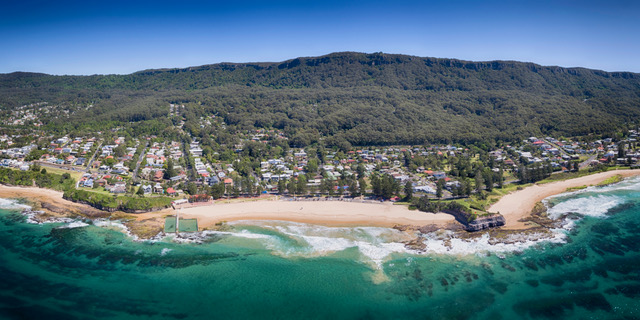 You don't have to be an "Einstein" to understand that the pandemic we have been struggling through has delivered us many negatives, especially when it comes to the ability to travel freely. Still, I and many I know have experienced a reasonable number of positives as well. Mostly due to lockdowns and only being able to venture outside for essentials and exercise.
Not only did this give me a renewed sense of family again, due to the fact I was at home instead of working away. But it also gave me a new drive for staying physically fit, as we were allowed to preserve our minds through exercise and the endorphins that it delivered us.
Many of the tried and tested local walking and running routes were suddenly busier than usual with families getting their escape time, which in turn had me looking for alternatives.
Enter www.bushwalkthegong.com.au.
The Wollongong escarpment has such an array of varied tracks and trails and they have wide-ranging appeal depending on your fitness level, your want of adventure seeking or perhaps your time constraints. The great news is the walks of the Wollongong escarpment and surrounds have you covered no matter what type of nature exploit you seek and Janae and a team of volunteers at Bushwalk the Gong can assist you with them all if you wish.
Established in 2016, with the initiative to share with the community her love and experience of the amazing landscapes that surround the city of Wollongong, Janae's passion for the region and the varied bushwalks available to families looking for some shared nature time is hard to match and spending a day exploring with her was such a pleasure.
You and your family can join Bushwalk the Gong on a group walk for the first time and it won't cost you a cent! Yep, your first experience is Scott free (see what I did there).
We covered four short and relatively easy walks on the day, all unique in their own way and all leaving you with a new sense of knowledge of the area's beauty, history and flora and fauna.
Having experienced a few other trails over my years of living in the region I must say I was surprised at just how many trails there were that I knew nothing about. I now have a list of others to conquer and look forward to joining Janae again soon. I may even get a little Zen and try one of her Nature Meditation Experiences, lord knows I could chill out a little!
My favourites, should you wish to give them some thought are listed here in no particular order. Remembering these are just a few of what's awaiting you and yours.
Robertson Lookout – Off Harry Graham Drive
This is for me one that has to be visited and if you want my advice and you get to the money view on sunrise then you will certainly be rewarded with, well like I said, the money view. The walk itself is an easy one and it's not far at all from the road, so not a lot of effort is required to bask in the glorious view that is on offer here. There are a couple of viewing locations here and you should certainly keep your eyes on the kids when visiting here. Being a father and of course a stickler for doing the right thing it's probably best to stick to the National Parks viewing platform.
Maddens Falls – Dharawal National Park
This little beauty is certainly family-friendly with its reasonably flat track with many boardwalks making it one that requires not a lot of effort at all. The stunning waterfall at the end is just magical and I have not ever been disappointed visiting here. You can make a delightful mid-morning experience out of it and pick up some local produce from Jo and the family by visiting Darkes Glenbernie Orchard, which is right across the road from the Darkes Forest Road entrance to the walk.
Sublime Point Lookout Ascent
OK this one is of a slightly higher grade when it comes to effort and includes a hell of a lot of stairs, so you can put away your 1980's stair master for a couple of weeks after conquering this one! You are basically climbing the face of the amazing Wollongong Escarpment with this trail and don't be afraid as the effort involved definitely comes with a pay day at the conclusion. The view from the top is an absolute cracker, I guarantee you that. Take your time and make use of the bench seats spread along the trek and grab a breath and some hydration. This is a physically demanding trail for people that are not considered very fit, so you either need to go extra slow or reconsider starting from the bottom and just walk down. Still it is family-friendly if you have the type of kids that engage in adventure and sports more than their phones or computer games.
Please remember also that these areas are sensitive environments, so please, please, don't leave your rubbish behind. Treat your surrounds with respect and let's keep them picturesque and welcoming for generations to come.
I would encourage all of you that have a family that loves to experience good times and mother nature's gifts to venture down to the "Gong" on a self-drive adventure and stay a couple of nights and include a couple of bushwalks into the itinerary.
Hit me up at www.thetravellingguy.com for some accommodation suggestions and I can certainly point you towards some brilliant dining establishments as well. Wollongong's foodie scene is kicking major goals and I will be writing about some of them in an upcoming story!
For more on Wollongong and all it offers, visit www.visitwollongong.com.au.
Scott McRae is an accomplished actor, entertainer and travel writer. Scott is 'The Travelling Guy'.