The top local Liberal candidates for next month's Local Government Elections have been revealed.
Incumbent Penrith Councillors Mark Davies (South Ward), Ross Fowler (North Ward) and Deputy Mayor Tricia Hitchen (East Ward) will lead the charge for the Liberal Party, with the trio boasting more than 60 years of local government experience between them.
First elected to Council in 2004, Cr Davies' top achievements include initiating the River Precinct Plan.
"During my time as Mayor in 2012-2013, I initiated the River Precinct Master Plan which has seen over $35 million committed to the redevelopment of Regatta Park and Tench Reserve," he said.
"Council's shade policy is another key program I helped instigate with $2 million being invested into providing shade sails to the City's 90 parks as well as additional tree planting."
Cr Davies plans to advocate for new road infrastructure to ease congestion along Tench Avenue and increased Council productivity if re-elected on December 4.
First elected in 1991, Cr Fowler was instrumental in securing the Whitewater venue for Penrith in the lead-up to the 2000 Olympics and served as Mayor in 1995-1996, 2013, 2014, 2018-2020 and as Deputy Mayor in 2015.
"I am committed to delivering a strong local economy and to ensure Council remains in a sound financial position to meet the needs and expectations of residents and ratepayers," the chartered accountant said.
"The future of Penrith Lakes is something I am very passionate about and I will work with the community and the Government to ensure there are first rate recreational facilities delivered for residents and future generations to enjoy."
Also on Cr Fowler's ticket is Glenn Gardiner, Hartley Dhyon and Tess Bratusa.
Cr Hitchen, a highly decorated former Commissioned Police Officer who has been on Council since 2012, will continue to be a strong advocate for people with disabilities.
A proud long-term resident of East Ward, Cr Hitchen, who was elected as Deputy Mayor in 2016, 2017, 2020 and 2021, was influential in securing funding for the Brisbane Street Park in St Marys, achieved better outcomes for the Oxley Park area and fought to upgrade the St Clair Dog Park.
"Working with the community I have assisted in establishing food and book pantries in Wainwright Park, Kingswood, and I am strong supporter of Council's Village Café Program," she said.
Completing Ms Hitchen's ticket is sitting Councillor Bernard Bratusa, James Hill, Glynis Hayne and Paul Mead.
See our November 26 edition for a full list of candidate profiles.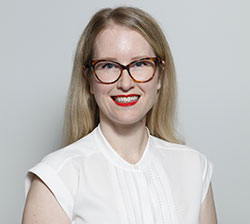 Alena Higgins is the Weekender's Senior News Reporter, primarily covering courts and Council issues.