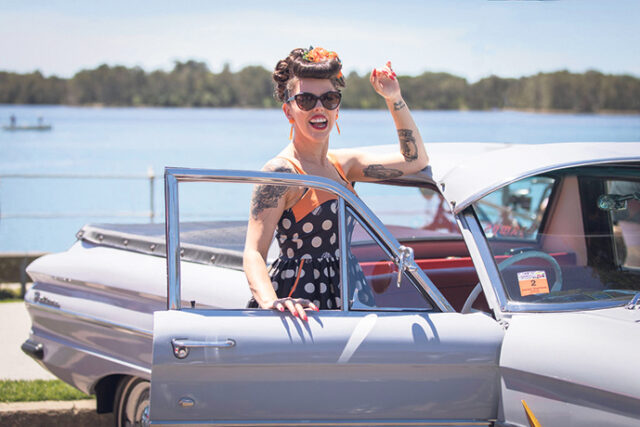 Annually it's one of the biggest events held on the Central Coast, but this year ChromeFest is moving online and everyone's invited!
ChromeFest is a tribute to classic American autos, hot rods, rock 'n' roll and of course, rockabilly.
Think 1950s and '60s, show cars, dancing, hot rollers, big curls, blue suede shoes and a whole lot of fun – ChromeFest is without doubt the place to be!
ChromeFest is a buzz of excitement catering for the young and old.
In previous years, ChromeFest has attracted over 60,000 visitors and locals to The Entrance over the three-day event.
This year, with the NSW Health order around restricted numbers and the current COVID outbreak, ChromeFest will be moving online to chromefest.org.
Just like in 2020, event organisers will present ChromeFest Overdrive TV on Saturday, October 23 from 3.30pm.
Fans of all things '50s and '60s are encouraged to tune in to the live broadcast for an afternoon and evening of live bands, dance demos and a flashback of some of your favourite show cars.
Some of the bands set to take to the stage include The Hellcat III, Swift Kicks, Bad Luck Kitty, Mikey Votano, Sydney Swing Katz and DJ George Galea.
So, fire up your laptop or even your Smart TV and log on to chromefest.org on Saturday, October 23 from 3.30pm for a trip down memory lane as you celebrate one of the best generations of all-time.
And don't forget the incredible three-day ChromeFest event will be back in the flesh next year from October 21 to 23 at Memorial Park, The Entrance.
If you love the online event in two weeks' time, you're guaranteed to love the in-person event even more with show cars, live bands and their famous pin up competition set to return.
Getaways to the beautiful Central Coast are always wonderful, so consider booking your stay for next year as soon as possible because
ChromeFest 2022 promises to be an event like no other!
For more details on ChromeFest this year and next, visit chromefest.org or call 1300 463 954.