Kirsty Newman took the plunge last year and started her own business Munchkin and Co, but now faces the harsh reality of lost revenue as a result of COVID-19 with no financial assistance.
The Cambridge Park mother said her baby and toddler clothing business was seeing success initially.
"I have four children aged 10 to one and when my 10-year-old was younger I wanted to start but I was petrified of failure, so when I had my now one-year-old I thought it is either now or never," Ms Newman said.
"I started last year and things were going well, orders were starting to pick up and I felt positive that I was really getting into things but then lockdown happened."
With many people out of work and being conscious of their spending, Ms Newman said the latest lockdown immediately impacted her business.
"I have an app that allows me to see people on the website and what they are looking at so I can see what I need to stock," she said.
"I noticed the drop in sales straight away and not as many people looking at the website because no one has the funds to buy anything that isn't essential at the moment."
The Government's Microbusiness Grant gives small businesses access to an ongoing payment of $1,500 per fortnight, but they have to have a turnover between $30,000 and $75,000 and a 30 per cent fall in revenue.
Like many people trying to grow their businesses, Ms Newman is not eligible for any monetary support.
"I have a part time job, eight hours a week in community care but I do not fit into any of the categories for grants because my business is still too small," she said.
"I am just trying to keep the business above water and I used to spend hours working on advertising, photos, sending out promotional emails but I now have no time trying to do home learning with three children."
The community is encouraged to support small businesses by buying local where they can.
"A lot of businesses similar to mine all over New South Wales are really struggling so we would appreciate any support with orders," she said.
"I have put so much time and effort into getting everything how I want it and I have a lot to go but I hope Munchkin and Co is around forever."
Visit www.munchkinandco.com.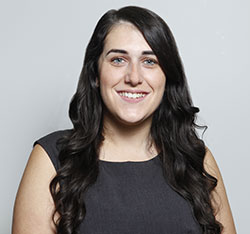 A graduate of Western Sydney University, Emily covers Local, State and Federal politics for the Weekender, as well as crime and general news.