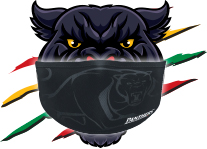 How Panthers landed TPJ
By the time the Tevita Pangai Jr to Penrith story broke on Tuesday morning, it had been dead and buried for at least a week.
Then, within 24 hours, it was not only revived, but a deal was done.
The Panthers were somewhat interested when the prospect of signing the 25-year-old popped up a few weeks ago, but couldn't make the deal work.
However, COVID-19 and the Queensland relocation changed things dramatically. James Fisher-Harris is about to exit the camp for the birth of his child, and will need to quarantine upon his return. That will leave Penrith without their best forward for up to three weeks.
Talks dramatically escalated on Wednesday and it was confirmed that Pangai Jr would leave Brisbane, join Penrith for the run towards October and then head to Canterbury for the 2022 season and beyond. It's a huge coup and a great signing for the club.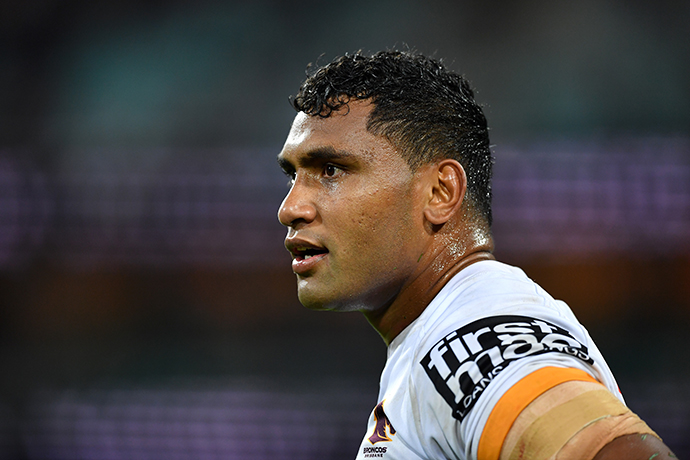 No pledge, members to be credited missed games
Panthers fans won't be asked to pledge their membership this season, with the club to instead offset any lost matches for season ticket holders against next year's pricing.
So far that's two games – against the Eels and Broncos, but there's an expectation that scheduled games against Souths and Wests Tigers won't go ahead at BlueBet Stadium either.
The credits will be applied at the end of the season once 2022 memberships go on sale.
When home's not home
There were a few raised eyebrows when Penrith's 'home' game against Brisbane this Saturday night got scheduled at Suncorp Stadium, the home ground of their opponents.
A simple switch of the 5.30pm and 7.30pm games would have allowed a double header at Sunshine Coast Stadium, where Penrith are based, instead of Suncorp.
Given the NRL's enormous challenges at present, nobody kicked up a huge stink, but it was a curious call.
Cleary to be named to play Storm
Nathan Cleary will be named to make his comeback from a shoulder injury against Melbourne when team lists for Round 20 are revealed on Tuesday afternoon. However, he'll still have to go through a number of final tests before being given the green light to play in the all-important clash.
Spotted
Panthers hit USA: The Panthers copped a mention on American sports podcast 'The Sore Losers' this week. After initially thinking the Panthers were an AFL team, Lunchbox, Eddie and Ray now know all about the mighty team from Penrith.
Masked at the toss: Nobody was taking any chances at last week's clash between Penrith and the Warriors at Suncorp Stadium – even the coin toss was undertaken with masks on!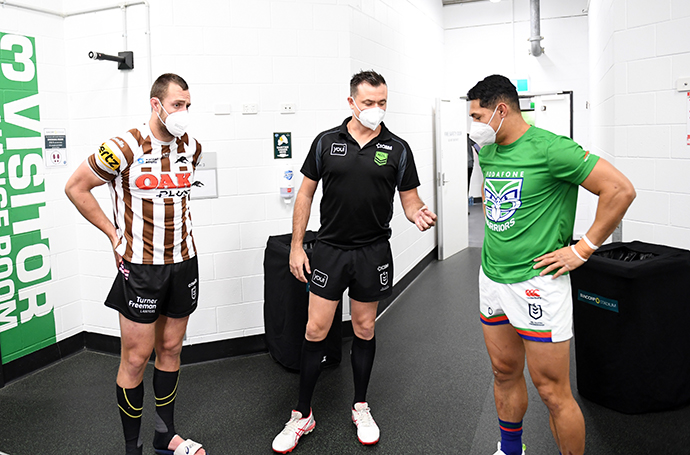 Kava celebration: Viliame Kikau producing a first class post-try celebration, drinking some Kava after bagging an early four-pointer against the Warriors.
KIKAU WITH THE CHARGE DOWN!!! 🔥 How about that Kava celebration 👏#NRLWarriorsPanthers
📝 https://t.co/d1kbw1pzRf
📲 https://t.co/458uyGserO
📺 WATCH via Kayo Sports https://t.co/BXXbrcdjXu pic.twitter.com/3NU04W5HRv

— Fox League (@FOXNRL) July 18, 2021
Sponsor extends deal
Despite the tough circumstances for business at present, Penrith's corporate team is still working hard. Last week they confirmed the signing of Turner Freeman Lawyers as a sponsor for the next two seasons, extending their current deal.
Players fly solo at resort
Penrith's relocation to Queensland is not a usual away trip for the players, who are used to having roommates to contend with in small hotel rooms.
Not only are the boys enjoying resort style living, but there's no roommates in sight – players have a room each, mainly to cater for partners who will soon join the camp. They travelled up earlier this week and will enter quarantine before joining the players.
To'o uses Origin cash to help family
Winning this year's State of Origin series was special for all New South Wales players, but perhaps none more so than Brian To'o.
The young Penrith winger will use his match payments to help his parents financially, just like he did when he signed his most recent, more lucrative club contract.
The humble winger is quickly becoming one of the most liked players at Penrith and continues to be one of the club's great feel-good stories.