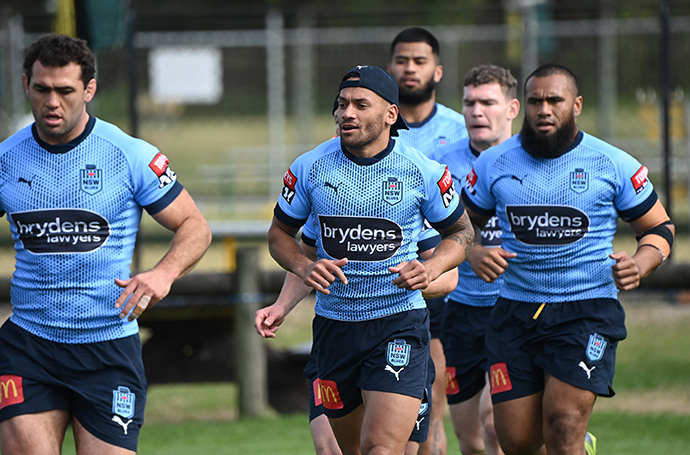 Api Koroisau says he will work to rebuild the trust of his family after being suspended for two matches and fined $35,000 for a biosecurity breach during the Origin series.
Reports suggest that Koroisau, who is married, invited a woman he met online into the Blues' hotel before both game one and two of the State of Origin series.
According to The Daily Mail, which first broke the story, the woman claims Koroisau gave her 'strict' instructions on how to sneak into camp without being noticed.
"I made the choice to do the wrong thing and my actions have brought shame and embarrassment to many people, especially my wife and children. I will be forever sorry," Koroisau said tonight.
"I sincerely apologise to the NRL, NSW Rugby League, Panthers, the sponsors and stakeholders, and all my teammates for letting you down.
"I apologise to the fans for putting our game at risk, particularly at such a challenging time for so many people.
"I apologise to my wife Amy for the pain I have caused. I've hurt you and the girls with my selfish, thoughtless actions.
"I'm determined to become a better partner, father and protector, and hopefully rebuild trust, and earn back your love and our family.
"I will work hard every day moving forward to show my wife, my children, my team and the Rugby League community that I am not defined by my mistakes and I will grow from this."
Koroisau's wife Amy, who is currently in hotel quarantine in Queensland and will join her husband in Penrith's camp early next month, also issued a statement tonight.
"While there have been some painful lies and misrepresentation in certain media reports, I don't think it is in the best interests of our family to engage with it," she said.
"Api is a great dad and although this has hurt me immensely I have no doubt he will put the necessary strategies in place to learn from this and better who he is."