Locals have a chance to tee off with some of the state's best amputee golfers at the Nova Employment handicap corporate golf day.
Being held at Penrith Golf Club on Friday, July 2, the event aims to raise awareness about employment opportunities for people with disabilities.
Scott Longmuir from Diverse Talent Management, who is organising the day on behalf of Nova Employment, said it will be fun and full of inspiring stories.
"The day will be extraordinary because it focuses on the stories behind the amputee players and their pathway to golf, which they will share with the group they play with and the broader audience at the luncheon afterwards," he said.
"The day isn't about raising money, it's about creating and raising awareness about job opportunities for people with disabilities."
One of the amputee golfers taking part is Andrew Zantiotis, who lost his leg as the result of a car accident in 2001.
"I didn't play that well when I started but I loved it and I persisted and kept improving. Since then I have won a few events like the NSW Open, which I have won twice and I have come fifth three years in a row at the Australian Open," Mr Zantiotis said.
"Not only has golf given me direction, I have travelled the world and met some of the best people you could hope to meet, so I want to use what I have learnt over my journey to help people."
With offices in Penrith and St Marys, Nova Employment CEO Martin Wren said it is a great opportunity to network with prospective employers who may hire people with disabilities in the future.
"A job is such an integral part of everyone's life story and our Nova team understand that this is fundamental to someone's self-esteem and earning an income is vital for independence," he said.
"The COVID-19 pandemic has highlighted to many people that may not have experienced unemployment or the prospect of unemployment how daunting not having a job can be, so I think there is even more appreciation for people with disabilities trying to gain a career."
Call Scott on 0430 700 672 or email [email protected] to get involved.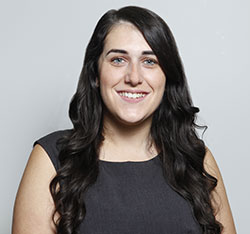 A graduate of Western Sydney University, Emily covers Local, State and Federal politics for the Weekender, as well as crime and general news.