If you have left your Mother's Day present for that special woman in your life to the last minute, there are plenty of Penrith mums that sell products and experiences that will make the perfect gift.
Glenmore Park mum of two, Molly Chand, began Belsi Artificial Flower Design at the start of the year and is ready to take orders.
"It has been a hobby for some time, but I finally did it. I love getting flowers, but it is a shame when they die, so this way they last and look beautiful forever," she said.
"It is nice to have something on my own since having my girls and I am prepared for last minute orders where I can use their favourite flowers or colours, and I deliver around the Penrith LGA."
Owner of The Day Spa Penrith – Jorja James Spa, Sam Oraya started her business in Emu Plains 20 years ago because of her kids.
"My son was ill in hospital a lot so I needed a job where I could juggle that… it was a struggle to balance but it has grown into being internationally recognised," Ms Oraya said.
"Day spa experiences are the most sought-after presents requested by mothers, so we have vouchers available online at www.thedayspas.com.au for that person that has nurtured and mothered you."
If you're after a unique experience to gift, Elisa Kupresanin runs Salt Therapy Wellness Centre in Penrith with her daughter.
"We have vouchers for our salt room sessions that have health and wellbeing benefits, plus we sell natural soaps, bath soaks, magnesium oils, and salt lamps which are all natural," she said.
"I rely on my daughter a lot with the business and I think the day is a just a nice chance to have time with your family and be appreciated for what you do."
South Penrith resident Veronica Neal sources local products to make hampers for her business, The Gifting Emporium.
"I like to support small businesses that are often run by mums and create hampers that have meaning, so I carefully curate quality products so you can show mum you love her," Ms Neal said.
"I have five daughters who are great at whipping up hampers, so I will be doing local deliveries up to Sunday and people can get a 15 per cent discount on my website if they use the code 'mum15' at the checkout."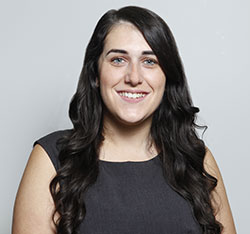 A graduate of Western Sydney University, Emily covers Local, State and Federal politics for the Weekender, as well as crime and general news.