Origin prep well underway
Fans shouldn't read too much into the decision to not include Spencer Leniu in the 17 for last week's game against Cronulla or this week's match against Gold Coast.
Leniu was originally set to play NSW Cup last week but ended up sitting the weekend out after COVID-19 protocols forced the NRL and second tier squads to be separated.
The plan is to give Leniu more game time ahead of the Origin period, with coach Ivan Cleary now well entrenched in preparations to get the squad through the representative season unscathed and fit for the back end of the NRL campaign and the Finals.
You can expect to see more selection tweaks in the coming rounds.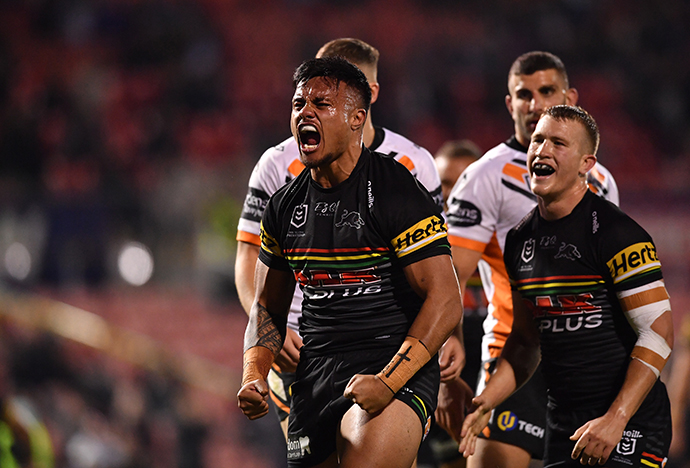 Zoom fired up again for interviews
It felt like 2020 again this week with Penrith's media sessions returning to Zoom after the NRL put players and officials under Level 3 COVID-19 protocols, essentially placing them back in bubble-like conditions.
It was the first time media sessions had been held remotely since the 2020 season, where it became the norm.
Well, that's awkward
There was an awkward moment for a Sydney Morning Herald journalist during Tuesday's Zoom session. During an interview with Stephen Crichton, she started asking about… Stephen Crichton.
Penrith's media manager had to step in and remind the understandably red-faced journo who she was interviewing.
Heavy hitters talk stadium deal
Spotted: State Penrith MP Stuart Ayres in deep conversation with Panthers Chairman Dave O'Neill at half-time of last week's clash between Penrith and Cronulla at BlueBet Stadium. We can guess the topic of conversation: the looming State Government commitment to upgrade or possibly even completely re-build the stadium.
Talking of the stadium, you can expect Penrith to head to Bankwest Stadium for home games if any period of closure at the current stadium is required.
A complete re-build would take two years if that's what ends up being announced by the Treasurer in the upcoming State Budget. The Panthers may take the opportunity to host a home game as part of Magic Round if the concept continues too.
It'll be a frustrating period for fans but the end result will obviously be worth it, with the Panthers able to capitalise on a bigger capacity for fans and much improved corporate facilities.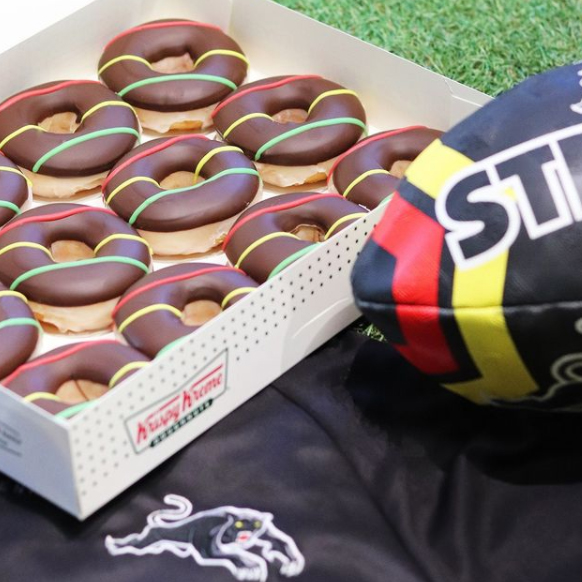 Tasty Panthers treat
Krispy Kreme is getting on board the Panther train, introducing limited edition Panthers-inspired doughnuts. The tasty treats will be available for every Panthers home game at the Krispy Kreme store in Penrith. Make sure you pop in for a doughnut before the next home game.
If Krispy Kreme would like me to sample some of these, they can send a box care of the Weekender office.
Fish deal still stalled
There's still no movement on a new deal for James Fisher-Harris at Penrith, with the powerhouse prop reportedly seeking close to $1 million a season under his new contract.
I'm told Fisher-Harris' team is looking for a deal that is worth more as each season rolls on, with the Panthers hoping to find some middle ground to get an extended deal across the line.
Commentators need training session
Can someone hold a training session to explain to commentators the new rule surrounding the awarding of tries? So many commentators and contributors across TV and radio seem genuinely surprised when a referee goes upstairs and says 'no try'.
Under the new rules, the referee will always do this if going to The Bunker straight away – otherwise he'll award the try and wait for a review in the background. It's not that hard to work out – yet some of our game's broadcasters don't seem to be across it.
Panthers remain favourites for trophy
The Panthers have firmed further as favourites for the NRL premiership with TAB. Melbourne's massive win over the Rabbitohs moved them from $4.50 into $4.00 but the Panthers remain the team to beat at $3.00, the shortest price this season. A Grand Final rematch is now rated a $4.25 chance after the Melbourne/Penrith Quinella tightened from $5.25.
The Roosters are back to double figure odds while Manly are now shorter than the struggling Raiders who are out to $34 heading into Magic Round in Brisbane.
Staines' odds shaved
If you'd backed Charlie Staines to finish as the NRL's top try scorer this season at $34 before last week's round, you'd be cheering after his hat-trick against the Sharks.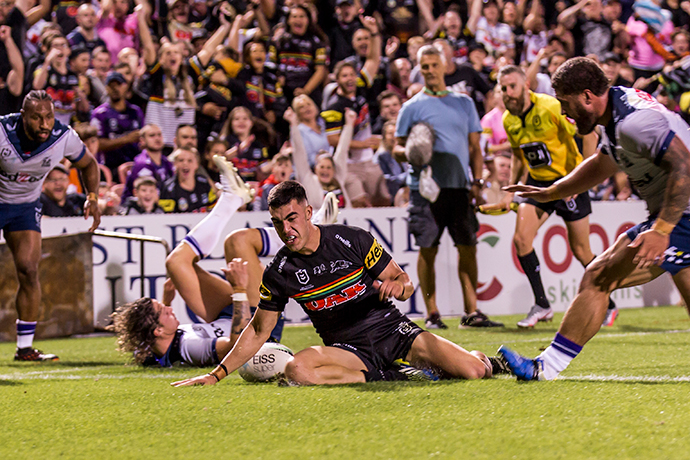 The TAB immediately shaved his odds back to $15, while his wing partner Brian To'o went from $13 to $17. Staines now has six tries for the season. Josh Addo-Carr is unsurprisingly the favourite to finish as top try scorer this year, now at the very short odds of $3.00 after going into last week's round at $19.00.
Broncos start own rumour
Remember that Matt Lodge to Penrith story I quashed a couple of weeks ago? I've since been told the initial story was leaked by… the Broncos! They're so keen for Lodge to leave Red Hill that they manufactured their own rumour.