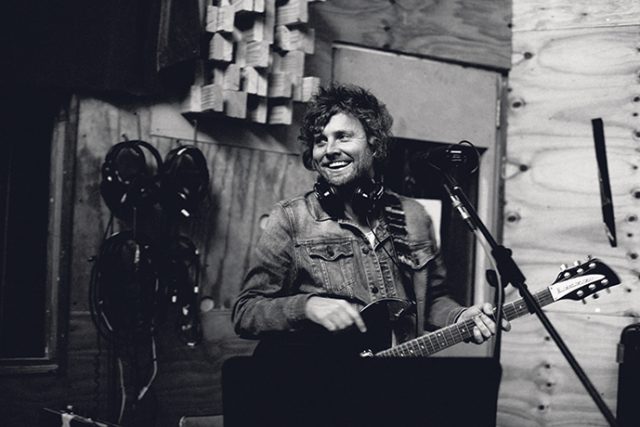 After many years in the industry, Kevin Mitchell – more commonly known these days as Bob Evans – is still finding ways to challenge himself and create great music.
His much-anticipated new album, 'Tomorrowland', has been out for just one week, but already he is keeping himself preoccupied with thoughts of what might come next.
The 43-year-old rose to fame with Jebediah, the popular '90s act made up of himself, Chris Daymond, Vanessa Thornton, and Kevin's brother Brett, whom he had been 'performing' with for many years already.
"My older brother, Brett – he had a cassette tape of the band Kiss, and me and my brothers all had masks, Kiss masks," Kevin said in a chat with the Weekender.
"I had the drummer, Peter Criss … we used to listen to 'Dynasty' by Kiss and put on our masks and get these plastic tennis racquets and put on mini concerts in our bedrooms.
"I always loved music and loved being around it."
After begging his mother to enrol him in dance classes at age seven, Kevin began to play instruments and write songs at 12. Now, with almost three decades in the industry, he believes he has matured as a musician.
"I used to believe in the idea that inspiration is a lightning strike, you just had to wait for it to happen," he said.
"I've been doing this for 26 years now since Jebediah started … along the way I started to change my belief that if you wait for inspiration to happen, you're not putting yourself in the best position for it."
A testament to this, Kevin demonstrates an ongoing love of creating music that has kept him working across both his solo act and Jebediah, who are touring this year.
"I think there's a nostalgia factor for people coming to watch Jebediah," he said.
"For us, it's not so much a nostalgia thing, but it is a little bit like time-travel.
"When we walk on stage it's kind of like getting into a time machine, and for the 45 minutes that we're on stage, it's kind of like we all turn into teenagers again.
"I think that's what the crowd is experiencing as well."
Although his work as Bob Evans keeps him busy, he says that Jebediah has also been working on an album over the last few years.
"I like to think that we've still got another record left in us to make," he said.
Bob Evans' brand new album 'Tomorrowland' is available now to buy or stream. He's also performing live at the Camelot Lounge in Sydney on Friday, June 18.
Erin Christie is the Weekender's entertainment and community news journalist. She has worked with Are Media, Good Reading Magazine and a host of other publications.