It has been a long journey for Craig Shanahan towards the opening of his much-anticipated café, The Blind Chef.
Mr Shanahan, who trained as an apprentice chef while completing his schooling, had dreamed of opening his own restaurant for some time before he met one of his biggest challenges in his life so far.
At 23, he was discovered to have a meningioma brain tumour, which caused him to lose his sight. He became legally blind, but his eyes were opened to the challenges faced by vision impaired people in their day to day lives.
"When I became blind, I noticed myself that I was never comfortable … a lot of cafes are quite small, and you've got tables and chairs here and there," he said.
"The more I spoke to friends that are blind, I realised that they didn't feel comfortable going out somewhere."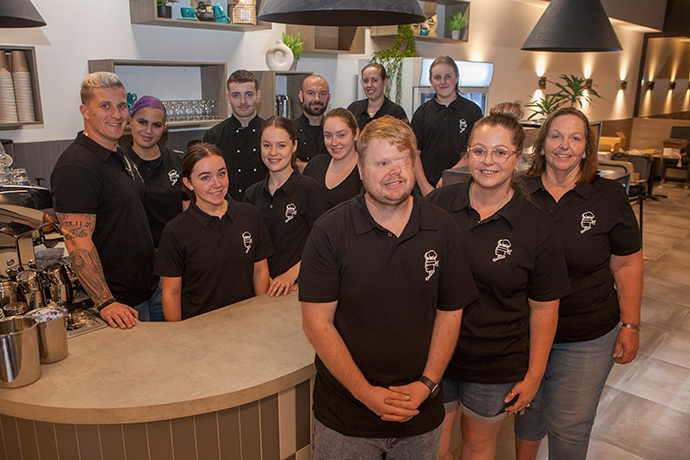 Mr Shanahan hoped to create an inclusive space for the vision-impaired, as well as those with other disabilities affecting their daily lives.
The space in the café has a layout to allow for vision-impaired people, and those in wheelchairs, to easily manoeuvre around.
Although the space is on the cusp of its opening, Mr Shanahan reflected that his dream had been a difficult one to complete.
Facing trouble securing a loan, and the added challenges of COVID-19, it took a lot of support from the community to allow Mr Shanahan to continue his work.
His friend helped him set up a GoFundMe, which grew awareness in the community. Some donated time and free services until Mr Shanahan could repay them.
Mr Shanahan will forever remember those who helped him.
"There's so many businesses that have helped, without them, it wouldn't have happened," he said.
"Obviously, it's a café … but it's kind of my way of giving back to the community, because I can meet everyone and say thank you.
"It's a job for me, but also a way for me to give back to the community and to show that anyone can do what they want to achieve."
The Blind Chef café will open on Monday, April 12 at 1/251 High Street in Penrith.
Erin Christie is the Weekender's entertainment and community news journalist. She has worked with Are Media, Good Reading Magazine and a host of other publications.