From a humble centre of 50 stores in the early 1970s, Penrith Plaza has grown into a local shopping mecca for local residents and beyond.
Now known as Westfield Penrith, the centre boasts over 200 fashion, dining and major retailers and is celebrating a special birthday, with the month of March marking 50 years since its doors first opened.
Officially opened on March 30, 1971, the shiny new centre cost a staggering $5 million and featured main tenant Grace Bros or Myer, as it is now known today.
It was the only department store in greater western Sydney at the time.
In the early '90s, the centre underwent a huge facelift costing $400 million, bringing in fresh elements to give it a 'town square' feel.
Retailers like Best & Less and Big W opened, along with York Jewellers, who moved in 29 years ago.
Shaun and Glennys Nolan, who have been in the centre for nearly 40 years with their business Penrith Jewellery Workshop, have served generations of shoppers during their time.
"Over the years we have seen the whole Penrith area explode and the number of people has magnified with all the new suburbs," Mr Nolan said.
"Our business has grown as the centre has, we've got numerous customers who are the third generations of families, which is really something, and what keeps the motivation going for us is the community spirit."
The centre officially came under the Westfield banner in 2005 and, in November of that year, the extension on the eastern side of Riley Street was completed which may forever be known as the 'new' section to most locals.
Holding a special place in the community, a nostalgic photo exhibition has been set up in the Centre Court on Level 1 and will be on display until April 6, to mark the milestone.
People can take a stroll down memory lane with images of the development stages, memorable meeting points like The Fruit Bowl, giant Obelisk and The Globe, along with the retailers who have been there along the way.
Westfield Penrith Centre Manager, Matilde Princiotta said it is fascinating to look back on the history of the centre to see how it continues to evolve with the changing needs of the community.
"We're very proud of the legacy our centre has created and look forward to creating more great memories with our customers in the years to come," she said.
Visit www.westfield.com.au/penrith.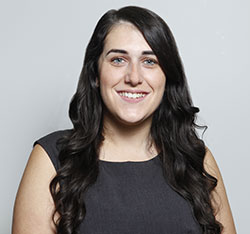 A graduate of Western Sydney University, Emily covers Local, State and Federal politics for the Weekender, as well as crime and general news.