More people are opting to seek the professional help of interior designers to assist them in enhancing the look and feel of their spaces.
Penrith based and nationally renowned interior design studio, Alicia Xiberras Interiors (AXI) is at the forefront of this growth, using its expertise to complete luxury interior design works.
Founder and Director of AXI, Alicia Xiberras said her talented team of five staff and herself can consult on a broad range of aspects for an individual's design projects.
"We do a lot of work with hospitality businesses, salons such as V&CO, retail, corporate office spaces, real estates and gyms like Atmosphere at Nepean River plus residential with clients who want a luxury experience for their home," Ms Xiberras said.
"We can even design logos or menus for a restaurant, choose the colour palette or will find a signature scent for a salon so that we can bring the brand to life and make the clients have a good experience. With a franchise like Laing + Simmons which we recently did in Caddens Corner, they have set things like colours and goals but then we bring that, plus their personality."
With over 15 years' experience in the industry, Ms Xiberras said AXI is proud to be a part of change in the region.
"I work around the state and Australia, but I am from Penrith and I am so passionate about how the area is growing and transforming into this cosmopolitan city," she said.
"We would love to do more design in the area because it is changing rapidly, and we want to be a part of that growth."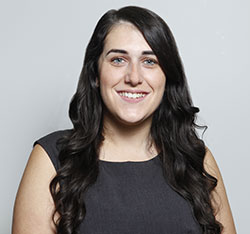 A graduate of Western Sydney University, Emily covers Local, State and Federal politics for the Weekender, as well as crime and general news.