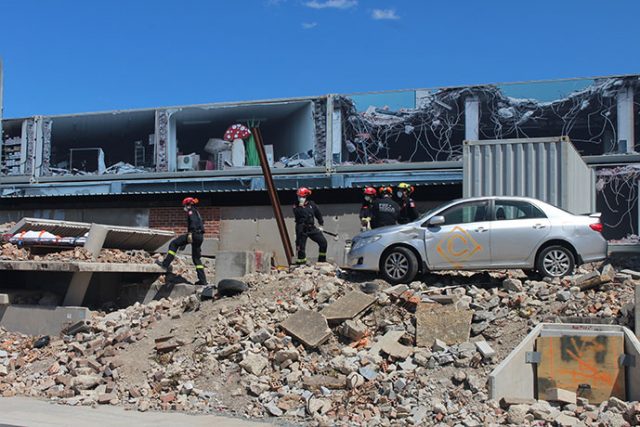 Orchard Hills is now home to a world-class training facility that ensures all emergency service personnel are prepared for whatever they may have to confront.
Fire and Rescue's Practical Learning Environment at the Fire and Rescue NSW Emergency Services Academy looks a little like something out of a Hollywood movie set but is providing personnel with state-of-the-art simulations for hands-on training.
Some of the scenes include the rubble from a mock earthquake, car crash, a petrol station and railway line, with the most recent addition, a combustible cladding five storey block.
Inside its rooms are staged scenes for the purpose of training, which could be anything from heaters to meth labs to ensure all recruits and emergency personnel are prepared for whatever the job throws at them.
NSW Premier Gladys Berejiklian joined Minister for Police and Emergency Services David Elliott and Fire and Rescue NSW Commissioner Paul Baxter at the site to launch the newest addition of the training facility.
Ms Berejiklian said the new $19 million training facility is designed to challenge the skills of first responders to ensure they are best prepared to help the community in the event of an emergency.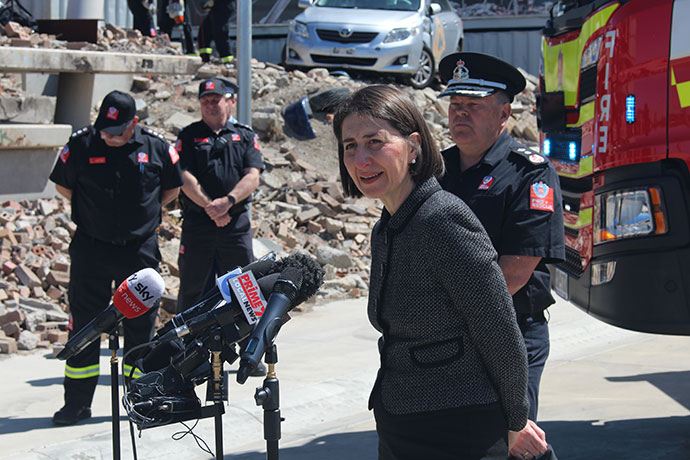 "This allows our key frontline workers, Fire and Rescue as the lead agency, to get all the training they need to keep all of us safe," she said.
"If 2020 has taught us anything, it's that we should expect the unexpected and never assume something won't or can't happen and we need to be ready."
The Practical Learning Environment's urban search and rescue scene consists of a variety of fire and rescue scenarios as well as a live fire facility.
Mr Elliott said all emergency services agencies will have shared access to the Practical Learning Environment.
"This is now mandatory training for all those who join NSW Fire and Rescue and they will now be trained in a way we've never seen before," he said.
Mr Baxter said each prop was specifically designed to enhance capabilities from fire and rescue to natural disaster and humanitarian relief.
"Within each prop there are real life scenarios from hazardous materials spills, to road crash rescues and factory fires, which will test the skills and knowledge of our firefighters," he said.
The next phase of the project will see the construction of a residential home, a streetscape and a train station scenario for rescue demonstrations.
A graduate of Western Sydney University, Nicola Barton is a news journalist with the Western Weekender, primarily covering crime and politics.