A new industrial development slated for Erskine Park has been given the green light.
The $9 million development, to be built on the corner of Lenore Drive and Erskine Park Road, will feature 17 industrial units plus an ancillary cafe and associated parking.
According to the Development Application's (DA's) Major Assessment Report, the applicant, ArkExpress Pty Ltd, originally wanted to build almost twice as many units.
"The application as lodged originally sought consent for the development of 29 industrial units ranging in size from 150sqm to 375sqm, plus a cafe unit at 80sqm," it states.
"During the assessment of the application, the proposal was amended to decrease the number of industrial units and increase the unit sizes to ensure potential future uses of the units would be permissible and could meet the IN1 zone objectives.
"The proposal now includes 17 industrial units ranging in size from 284sqm to 625sqm, plus a cafe unit at 80sqm."
The DA provides for 101 car spaces – 40 at-grade and 61 spaces in the basement – and also includes earthworks, vegetation removal, landscaping and stormwater drainage works and strata title subdivision.
Located within the northern precinct of the Erskine Business Park, the 1.4-hectare site is triangular in shape and currently vacant.
"The subject site is ideally located adjacent to the newly formed Erskine Park link road connecting to the M7 and orbital motorways surrounding Sydney," the Statement of Environmental Effects (SEE) reads.
"Nearby development includes a large depot and warehouse facility operated by Linfox with a number of other large storage and warehouse facilities including Coles in the immediate vicinity."
Penrith Council had previously considered an application for a tavern and associated neighbourhood shops on the subject site, however this approved development did not progress, according to the SEE.
The Penrith Local Planning Panel was the determining authority for the DA, which was lodged in September last year, due to Penrith Council owning a strip of surplus land on the subject site previously known as Lenore Lane.
It is understood ArkExpress will consolidate and acquire the Council land previously used as a road, which effectively completes the 'land puzzle' of undeveloped land within the industrial precinct.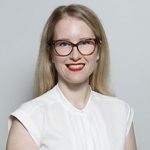 Alena Higgins is the Weekender's Senior News Reporter, primarily covering courts and Council issues.