This August, Woolworths stores in Penrith and Share the Dignity are partnering in a Dignity Drive that will provide essential support to the growing number of NSW women experiencing period poverty as a result of COVID-19.
The economic and financial impacts of COVID-19 has meant that even more women are having to make the choice between buying food or sanitary items, with Share the Dignity reporting a 54% increase in the number of charities registering for the August Dignity Drive, when compared to the previous Drive held earlier this year.
Woolworths customers across NSW donated over 12,100 sanitary products towards the March Dignity Drive. These products were then distributed to girls and women who cannot afford to buy sanitary items.
The August Dignity Drive will run across all Woolworths Supermarkets and Metro stores nationally, giving customers the opportunity to donate sanitary items via collection boxes in store.
Woolworths will also donate five cents from the sale of pads, tampons and liners in August to Share the Dignity, to help the charity fund more Dignity vending machines that dispense free sanitary items to women experiencing homelessness, fleeing domestic violence, or facing difficult circumstances.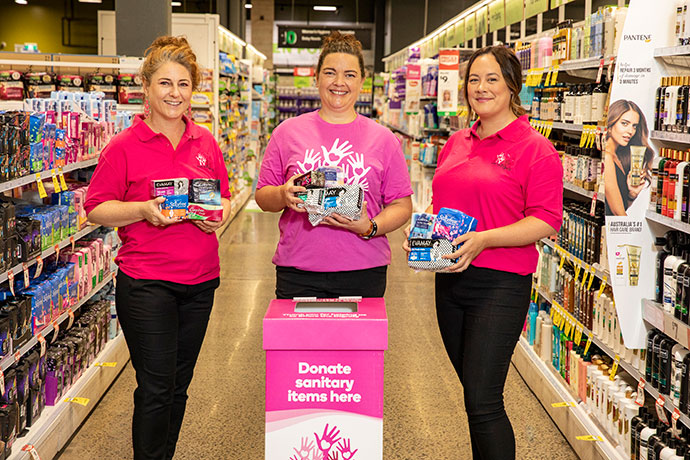 Leanne Pitt-Barile, Volunteer State Leader NSW, said: "COVID-19 continues to have a profound impact on communities across Australia and it's so important that we come together to help those in need during these difficult times. Through no fault of their own, more women and girls in Penrith are not going to be able to afford basic essentials and will have to resort to toilet paper, socks or washers to deal with their period.
"Together with Woolworths stores in Penrith City, we're calling on the local community to support our August Dignity Drive by purchasing their sanitary items at Woolworths or donating what products they can to our collection boxes. Each donation is so valuable to us and will go towards supporting the lives of women across NSW."
Ian Roper, Local Woolworths, Operations Manager, said: "At a time when community support and kindness is more important than ever, we are incredibly proud to be partnering with Share the Dignity for the August Dignity Drive.
'We're always amazed by the generosity of our customers and the support they show for our Dignity Drives. It's this small act of kindness that goes such a long way in supporting vulnerable girls and women across Penrith."
Woolworths has partnered with Share the Dignity since early 2019 and, in partnership with its customers, has raised more than $1.3 million for the charity. The funds raised to date are being used to install 80 Dignity vending machines across Australia.
The Dignity Drive held in March collected over 43,000 sanitary items for women in need across Australia.