Pub royalty, the Laundy family, have their eyes on a new project, submitting a development application (DA) for a tavern in the heart of Jordan Springs.
You may know Laundy Hotels as the mastermind behind The Marsden Brewhouse or The Locker Room at Sydney Olympic Park.
Just recent Laundy announced it would spearhead the revival of the Log Cabin alongside the Cottle family and Penrith local businessman Rob Wearn.
The $8.4 million Jordan Springs Tavern proposal, submitted to Penrith Council last week, is for the 5026sqm pocket of land at Lot 3989 Lakeside Parade, Jordan Springs.
Team2 Architects have drafted designs, with FDC Construction, the company behind some of Laundy Hotels' most vibrant venues, to facilitate the build.
The tavern would boast outdoor gardens, a shaded kids play area, indoor and outdoor bars and dining as well as some gaming facilities.
This also includes a 48-space parking lot, inclusive of one accessible space and drop-off zone.
FDC Construction Senior Project Manager Peter Stait said they've been working closely with Team2 and Laundy to develop a modern, family-friendly design to best suit the suburb.
"With the Development Application now submitted, we look forward to working efficiently through the approvals process with Council, whilst continuing our detailed design and tendering with local trades to have the project shovel ready shortly after issuance of consent," he said.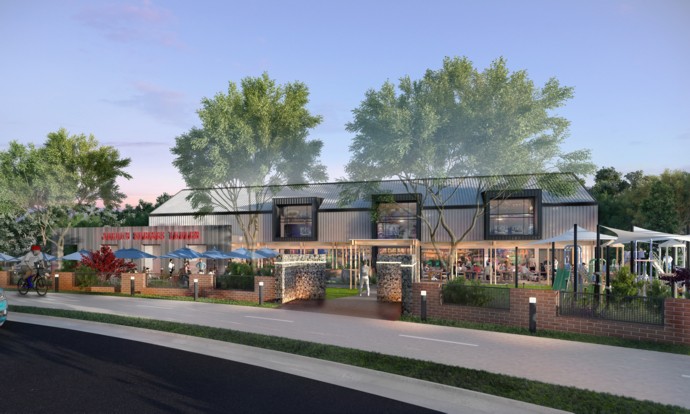 In a report by Team2, architects have referred to the design choice as 'barn style' and said it would remain one storey to ensure the height of the building does not cover the backdrop of the Wianamatta Regional Parkland.
The proposed hours of operation will be Monday to Saturday 10am to 3am and Sunday 10am to 12am.
It is expected that in excess of 150 construction related jobs will be created by the development, and that ongoing permanent and casual staff will be of a similar number.
A graduate of Western Sydney University, Nicola Barton is a news journalist with the Western Weekender, primarily covering crime and politics.