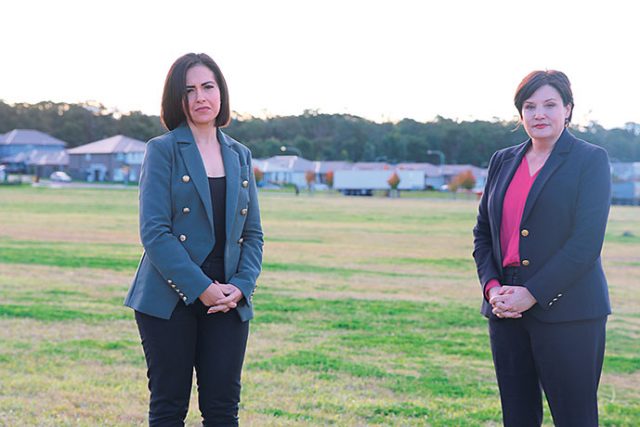 It was a hot promise during the Coalition's State Election campaign but one year on the Mulgoa Rise Public School site remains an untouched block of land.
Now, NSW Labor is calling for the delivery of the school to be fast-tracked to help drive economic recovery through job creation and address overcrowded classrooms in the Glenmore Park area.
The State Government recently launched its Planning System Acceleration Program, aimed at creating more construction jobs during the recession.
Of the 19 projects named as part of the program, only one was a school.
State Labor Leader Jodi McKay and Shadow Minister for Education and Londonderry MP Prue Car believe Mulgoa Rise Public School is one of many schools that need to be included.
Glenmore Park Public School sits at 43 per cent over capacity. Surveyors Creek Public School is 14 per cent over capacity.
"It's time to bring forward desperately needed school construction; building local schools creates local jobs," Ms McKay said.
"They must be made here in NSW, not in another state and transported here. By doing that the government is supporting jobs in Victoria and Queensland when they're urgently needed in western Sydney and across NSW."
Ms McKay said the State Government must guarantee that local construction companies are given priority.
The school was promised by NSW Premier Gladys Berejiklian and Mulgoa MP Tanya Davies back in February last year.
The school, which will have the capacity for up to 1000 students, is set to be completed by 2023, when the next State Election is due to be held.
Ms Car said with Mulgoa Rise and Glenmore Park still expanding, the school needs to be delivered now and not in three years' time.
"The Mulgoa Rise development is nearing completion and yet the primary school is still three years away," she said.
"Nearby Glenmore Park Public and Surveyors Creek Public are over capacity with 14 demountables between them; this school needs to be fast-tracked now."
Ms Car said she fears the Mulgoa Rise Public School will become 'Jordan Springs Public School 2.0', which took over five years to materialise.
Ms Davies, who announced the school during her State Election campaign last year, said she has received no further update on works at the site. She said that as soon as information is provided the community will be informed.
A graduate of Western Sydney University, Nicola Barton is a news journalist with the Western Weekender, primarily covering crime and politics.