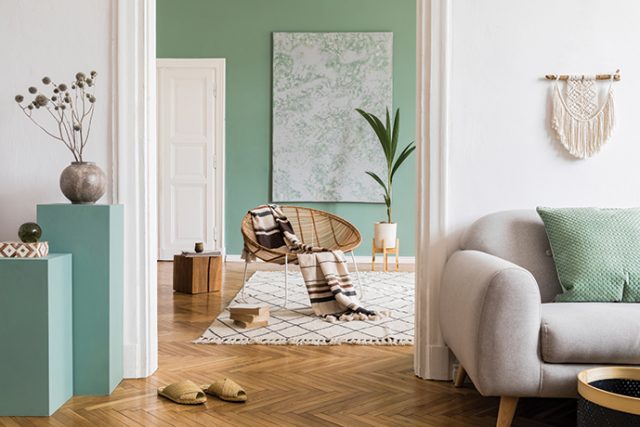 To successfully create a natural look to the décor of your home, there are a few simple rules you can follow.
This style is called modern bohemian (also known as boho) without too much colour and a little minimalist. It's really on trend at the moment and one of our favourite styles to work with in staging homes.
Start with a light pallet on the walls – white, or if you're feeling brave, light green or pale blue. The use of rattan is a must and you can introduce this in items such as armchairs, a coffee table, dining chairs, kitchen stools, or even pendant lighting.
Choose a few options but be careful not to overdo it! Natural wood is also a great product to achieve this look. Wood floors and/or dining table can help add to your natural style and never dates in our opinion!
Other items to add are plants, lots of plants. If you have a wall where it has good natural light (north facing), this is a great place for your indoor plants. Go wild and place pot plants of all sizes on shelves, the floor or a side table. Greenery really brings the natural and earthy theme to life – also they're great for air quality in the home.
Hang some macramé on the wall and add a jute rug to the floor.
A light coloured throw and some cushions with texture will finish off this space nicely.
You can apply this style to just about any room in your home, bedroom, livings areas, bathroom.
Have fun with it and don't overdo it with the decorations as the heroes of this space will be the natural wood and greenery.