Researchers from Western Sydney University have developed wearable medical devices to monitor vital signs in a unique way.
The 'Saiiv' technology can monitor breathing, heart rate and temperature all by wearing a t-shirt or waistband.
Associate Professor Gaetano Gargiulo said he thought of the idea with his colleague Associate Professor Paul Breen.
"Many years ago we wanted to monitor blood flow in the legs and thought it would be fantastic if we could do it in a way that didn't require things like electrodes or close contact to the skin," Associate Professor Gargiulo said.
"We found sensors that we could put in lightweight fabric and realised we could use the same technology to measure respiration and heartbeat on the chest while having it connected to an app."
Now part of a Cooperative Research Centre project, with a focus on diagnosing sleep apnoea, Associate Professor Gargiulo said the technology can have many uses.
"It will allow people who may have sleep apnoea to sleep comfortably while being monitored along with people with heart disease or respiratory conditions who can wear it and go about their daily life," he said.
"Pregnant women who may have issues or anxiety can see foetal heart beat without going to an obstetrician or midwife and in response to Covid-19 patients could stay at home but have vitals monitored."
While they have developed prototypes and started clinical trials, Associate Professor Gargiulo said there is no immediate date for the product to be on the market.
"There have been delays with everything going on but we are still in the process of finalising things such as what battery we will use for personal use or in a more clinical hospital setting," he said.
"I hope once it does become available it can really help people and close the gap between diagnosis and all the tests you have to go through before getting treated for certain health issues."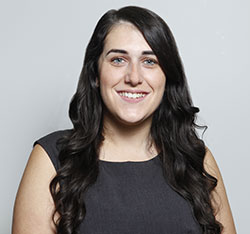 A graduate of Western Sydney University, Emily covers Local, State and Federal politics for the Weekender, as well as crime and general news.