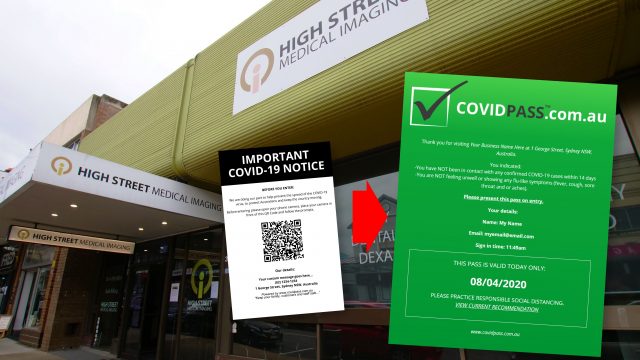 A local business has created a web-based app that automates COVID-19 screening, replacing paper with extremely easy to use QR code technology.
The new app created by A Website That Works For you ensures businesses and residents can now easily generate a QR sign they can print and stick at the entry of their premises.
Anyone visiting the premises scans the QR code and is asked to answer a couple of simple screening questions on entry via their smart phone.
If they pass, they receive a CovidPass to present at the door which contains their answers. It also contains recommended best practices for social distancing. If they fail, they are provided government recommendations and a link to the government health WhatsApp chat.
It's free for businesses and households to create a display sign, start issuing passes and it is extremely easy to use. You don't need to download an app to get a pass, all you need is a camera on your phone and WiFi.
"We've been trailing CovidPass at our medical clinics and so far, the feedback has been great. It is becoming more common place for businesses to take contact tracing seriously and this is just an easier way of achieving this," said Tony Lu, partner of High Street Medical Imaging.
Tim Williams, founder of A Website That Works For You, said the idea came to him after a recent shopping trip.
"I was shopping for necessary supplies recently and baffled by the amount of people not following proper social distancing recommendations," he said.
"In some cases, I've had people walk closely around me cough or sneeze and not even try to hide it or cover their mouth.
"Unfortunately, this makes customers more hesitant to go out for essential supplies, especially if they reside with the elderly or those in high risk categories.
"This is where the idea for CovidPass came about. To make it obvious, deter those who are sick from entering and encourage all visitors, customers and staff to follow recommended social distancing standards for a safer, faster recovery to normal life"
How to get your CovidPass display sign?
You can create a CovidPass display sign for your business or home entrance by visiting www.covidpass.com.au – it takes less than 60 seconds.