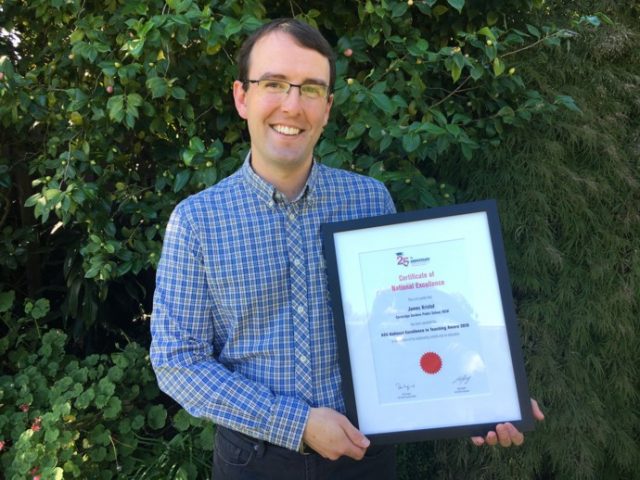 Cambridge Gardens Public School teacher James Kristof has been recognised as one of Australia's top educators by winning an ASG National Excellence in Teaching Award (NEiTA).
The primary teacher believes gaining a deep understanding of every student, their background and mental health is the first step to figuring out what that student needs in order to succeed.
James leads by example and co-oversees the Kitchen Gardens program, an initiative which gives students with learning and mental health needs access to a positive, safe, calm and active environment to learn and self-regulate their behaviour.
James also headed-up the Story Trader program at Cambridge Gardens Public School, which helps students engage in critical and creative thinking activities, such as solving a series of ongoing mysteries around the school. Participation in the program has increased student engagement and decreased the incidence of negative behaviour in classrooms.
ASG CEO, Ross Higgins said it's educators like James who inspire and make students want to learn.
"James's passion for education is infectious, and it's not just the students who benefit, rather his colleagues and the entire school community," Mr Higgins said
"Teachers like James are shaping and influencing the lives of countless students and creating opportunities they never dreamed existed.
"It's NEiTA's 25th anniversary, and it's wonderful ASG can recognise and applaud inspiration teachers like James who have made an outstanding contribution to the teaching profession.
"NEiTA is also the only national teaching award where nominations are made by parents, students, and school communities."
Mr Higgins also said the current climate of uncertainty highlights how valuable teachers are and the critical role they play, especially when students are feeling stressed or anxious.