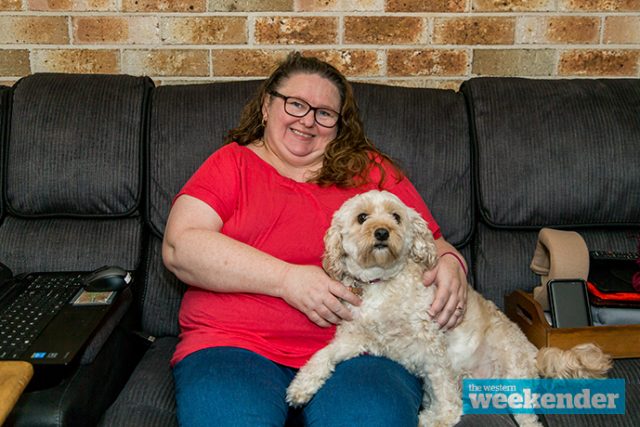 Imagine being confined to your home, unable to work or drive and in constant pain.
This is the reality for Emu Plains resident Samantha Sutherland as her battle with a rare congenital musculoskeletal condition worsens.
Diagnosed with Klippel-Feil Syndrome, Chiari Malformation, Intracranial Hypertension, Syringomyelia and severe spinal degeneration, every day is a challenge for the 45-year-old.
"After years of debilitating symptoms and surgeries I have reached a point where I have been unable to work for more than three months, cannot undertake general housework and cannot drive or travel anywhere independently," she said.
Ms Sutherland has had multiple surgeries over the years in an attempt to alleviate the constant pain she endures.
In 2006 she had successful brain surgery which resulted in significant improvements, however everything took a turn in 2017 and ever since then her conditions have only worsened.
"Since then I've had three surgeries and nothing has changed, I just pray for a miracle every day," Ms Sutherland said.

Due to her illness she has constant pain, headaches and difficulty moving.
She now requires major, complicated and expensive surgery with no guarantees of improvement, that is not covered by Medicare.
"It will entail fusing my cervical spine, not only will this be a very risky surgery, it will also come at a hefty price," Mr Sutherland said.
"Further surgery and treatment will come at a cost we simply can't afford."
Unable to work, Ms Sutherland has been struggling to make ends meet, as the family relies on her husband's sole income.
She has since started a GoFundMe fundraiser to help get the surgery she requires.
Despite financial pressures, she said going through long-term health challenges has been an eye-opening experience.
In an effort to raise awareness of the conditions and to help ensure others with similar difficulties don't feel alone, she documents her journey on her My Positively Chronic Life Facebook page.
"This illness is soul destroying but my family are my lifeline. I do have a lot of bad days where I feel like I'm flat lining but I'm a big believer in you need to help yourself to get anywhere and that's what keeps me going," she said.
To donate, visit bit.ly/37CO3Hs.
A graduate of Western Sydney University, Nicola Barton is a news journalist with the Western Weekender, primarily covering crime and politics.