They were the photos that shocked the nation, as devastating imagery was released of animal carcasses that resulted from this season's bushfires.
But it is not just fires that are having a detrimental impact on our native species, with an alarming amount of flying fox carcasses appearing locally after the recent heat wave.
A foul stench pollutes the air in the bushland behind the Ingenia Holidays Nepean River caravan park in Emu plains, which is home to a camp of endangered flying foxes, as their carcasses rot.
Known as 'great pollinators' they play a pivotal role in the local ecosystem, but local WIRES volunteer and Geography PHD student Sara Judge said there's not a lot we can do to help equip them with the skills to survive in our sweltering conditions.
"Flying foxes are incredibly temperature sensitive, what essentially is happening when it gets so hot is that their body is not able to cope and they boil from the inside out," she said.
Ms Judge said the death of these camps as a result of the heatwave is not uncommon across western Sydney.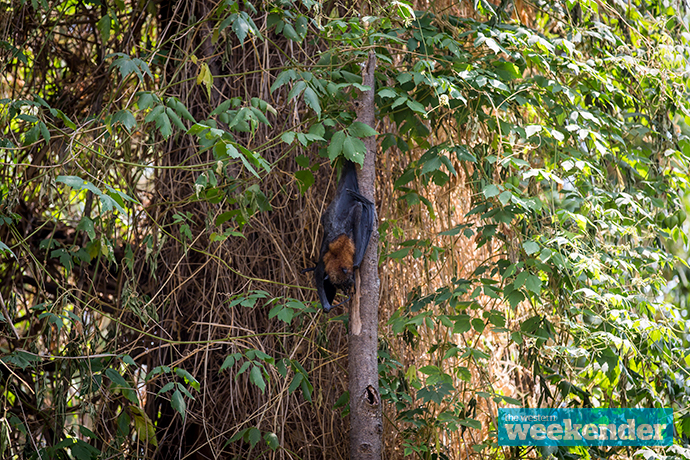 The grey-headed flying-fox species is listed as 'vulnerable' by the NSW Government.
"The flying foxes are the pollinators of our forests, they are critical in the genetic diversity of those forests and the reality is without them we don't have that forest security that we currently have," Ms Judge said.
But while the public may think spraying down or providing water to these native friends will help them during hot conditions, Ms Judge said it can do more harm than good.
"They aren't the kind of animal that will come into a backyard to a water station, a lot of people go into the camps with good intentions on the hot days but it actually can just distress them more," she said.
"The best thing to do is to allow WIRES and other organisations who have the correct training to go in and care for them where they can."
Ms Judge said even for WIRES volunteers there's little they can do with the broader issue of climate change at large.
A spokesperson from Penrith Council said they can assist in the removal of dead bats if they are in a public spaces and encourage residents to report cluster deaths to the Animal Biosecurity Emergency Hotline on 1800 675 888.
"An effective approach to preventing multiple bat deaths requires a multi-agency approach at a regional level involving the Department of Primary Industries, Councils and wildlife care providers," the spokesperson said.
A graduate of Western Sydney University, Nicola Barton is a news journalist with the Western Weekender, primarily covering crime and politics.