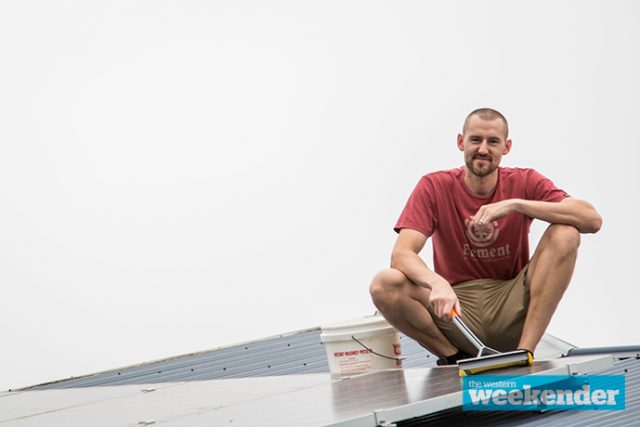 As locals cough and splutter through the dust and smokey conditions, those with solar panels are reminded of the impact this may have on their electricity generation.
According to local solar expert and Solec Industries owner Robert Hanson, the dust forming on the panels as a result of the fires can cause around a 30 per cent reduction in performance.
Caddens resident Barry Dawson was shocked to discover his electricity generation had more than doubled after cleaning his solar panels last week.
Mr Dawson had been monitoring how much power he generated each quarter and has an inverter device that shows the current kWh being generated as well as a daily total.
"Over the past year we had only been averaging 4.5kWh per day and I was starting to think that we needed to upgrade our system and install more panels," he said.
"During my research for upgrading our solar installation I came across the average figures that a system our size should be generating and when I realised ours was well below that, I decided to get up on the roof and clean the panels to see what effect it would have.
"I took note of the current generation stats before cleaning and after I got down it had more than doubled."
That evening Mr Dawson checked his daily total, which sat at 9.1kWh, doubling his average for the previous year.
"In the next few days I saw a daily total of 12.3kWh so I am hoping that cleaning the panels has contributed to this quarter's electricity bill," he said.
"My understanding is that anything which blocks the light from hitting the solar panels severely limits the effectiveness, so the dust and smoke would have a dampening effect on all affected areas."
Mr Hanson, who has been in the solar business for about 10 years, said panels are usually required to be cleaned annually due to the fact that rainfall assists in the maintenance process.
With ongoing dry conditions, this cleaning process will need to be increased for ultimate electricity generation.
However, safety should be treated as a priority.
"If you're not competent being on a roof with a hose and a broom, call a local handyman, panel cleaner or even your local solar company. They should be happy to do it," he said.
A graduate of Western Sydney University, Nicola Barton is a news journalist with the Western Weekender, primarily covering crime and politics.