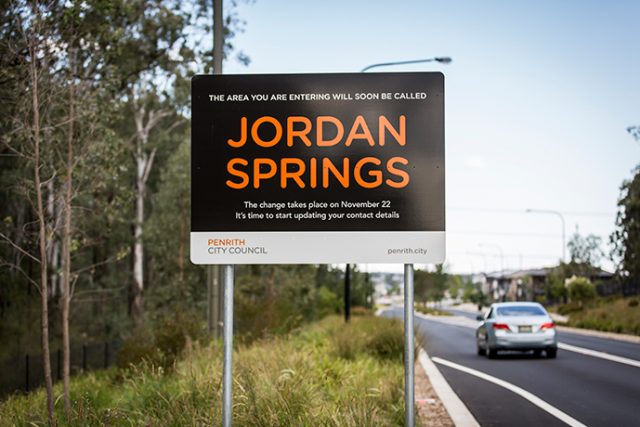 The formal suburb name for the Central Precinct of the St Marys Release Area will change from Llandilo to Jordan Springs as of Friday, November 22.
Although known by locals as Jordan Springs East, the Central Precinct is technically located within Llandilo but will now officially change with the extension of Jordan Springs.
It's been a long time coming for some but for Kristie Hille, having moved to the area only seven weeks ago, she will now have to change her address once again.
"Before it depended on who you spoke to as to what you called yourself because it's like I'm in Jordan Springs, but it's Jordan Springs East, and it's technically Llandilo," she said.
"I think it's a good thing that it will finally clear it up for everyone, it's just inconvenient that we couldn't have known before. There was about 20 services that we had to touch base with seven weeks ago and now we'll have to do it again.
"We're finding now it's a lot about trying to prove that we're living in the same place and it's just the name that's changing."
The expansion includes the Central Precinct, surrounding areas of open space and Wianamatta Regional Park. The majority of the section is bushland.
"The development of the Central Precinct is underway but new suburb arrangements were not settled prior to development commencing," a Penrith Council spokesperson said.
"The current arrangement, with no road connecting Llandilo to the Central Precinct, is causing confusion for residents, visitors and the emergency and postal services. It is also affecting property valuations and insurance arrangements.
"These issues have triggered the need to consider new suburb naming arrangements."
Under the Geographical Names Act 1966, the Geographical Names Board (GNB) is responsible for the name change.
The spokesperson said: "Many authorities will update your property or supply address after Council has notified them; however, they need to be contacted by you to update your mailing or billing address".
Authorities such as Australia Post, Emergency Services and NBN will be notified by GNB and Council.
Others such as childcare, health services, MyGov, Service NSW and family and friends will need to be notified.
Penrith Council has compiled a checklist for residents which can be found here: bit.ly/36FkJ3y.
Only the name of the suburb will changed, the 2747 postcode remains.
A graduate of Western Sydney University, Nicola Barton is a news journalist with the Western Weekender, primarily covering crime and politics.