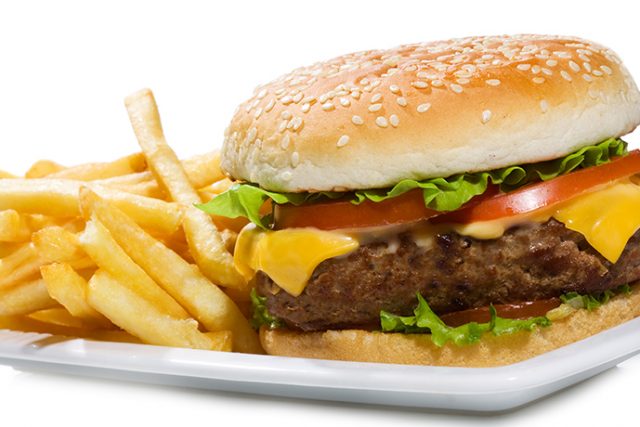 We all love a cheap lunch, and we've tracked down the top five lunches $10 or under across the Penrith LGA…
5. Hogs Breath Cafe (Penrith and St Marys)
You'd struggle to find a bigger lunch for the same price anywhere else in Penrith.
Hogs Breath's $9.90 lunch menu includes the cheesy steak burger, salt & pepper calamari salad as well as either beef or chicken schnitzel.
You can also score yourself fish & chips or our personal favourite – the classic smoky BBQ beef wrap.
4. Peachtree Hotel (Castlereagh Road, Penrith)
There's nothing like a pub feed, especially on a Friday.
While the Peachtree Hotel doesn't have a specific $10 and under menu, there's two great items on their lunch menu for just $10. Grab the salt and pepper squid or the delicious beer battered fish and chips.
Keep an eye out for specials too!
3. Zen Noodle Bar (Panthers)
Fancy some yum cha? Zen Noodle Bar is the answer with a range of dumplings on offer for under $10.
We recommend the steam bbq pork buns for $7.80, or the fried satay pork chop.
Zen has a wide-ranging menu and while it's inside Panthers, it's a nice quiet atmosphere at lunch.
2. High Street Social (High Street, Penrith)
High Street Social has recently re-launched its food offerings and they have spectacular lunches on offer for $10 Monday to Friday.
Try the hand crumbed chicken schnitzel with chips and slaw, the pasta of the day or the delicious pork ribs, chips and slaw.
For only $10 it should definitely be on your lunch rotation!
1. Trevi (Woodriff Street, Penrith)
Trevi is one of Penrith's best restaurants and the fact you can get some of their most delicious menu items for $10 at lunch is amazing!
It's a takeaway special – so ring through your order, pick it up and enjoy!
Some incredible pastas are on the lunchtime menu, freshly made to order. Try the spaghetti capsicum cream or the penne bosciola!