There's a pretty strong whisper doing the rounds that former Manly coach Trent Barrett could be returning to Penrith next season, potentially as an assistant to Ivan Cleary. Barrett and Cleary worked together during Cleary's first stint as coach of the Panthers. Watch this space.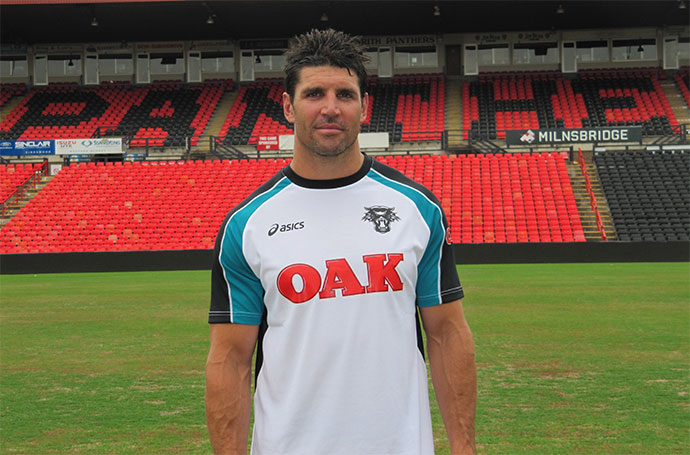 Talking of strong whispers, I'm hearing former Panthers captain Peter Wallace could end up in the coaching box next year too, potentially in the lower grades.
It seems obvious that the next veteran Panther to have his future at the club questioned is Dean Whare. The 29-year-old is still contracted for the 2020 and 2021 seasons but his demotion to reserve grade last weekend could signal signs of an early departure. Whare was told as early as last Monday that he wouldn't be playing against the Sharks last Friday night, with Steven Crichton being handed his debut in the centres. The Panthers did reasonably well to keep Whare's demotion under wraps until a few hours before kick-off, though I did hint at it in last week's column.
Last week's three debutants – Matt Burton, Stephen Crichton and Spencer Leniu – certainly had plenty of support from friends and family. All three were given 120 tickets each by the club to distribute to those wanting to cheer them on, and every single ticket was snapped up quickly. Pictured is Burton with his group of friends, who probably cheered louder than anyone last Friday.
I'm told a phone conversation between NRL CEO Todd Greenberg and Panthers Chairman Dave O'Neill about the consistency of the judiciary last week got rather heated. Greenberg was left with no doubt about Penrith's thoughts on the current system, which has become nothing more than a lottery.
For the first time in a year former Panthers boss Phil Gould and ex-coach Anthony Griffin found themselves just metres from each other last Friday night. Gould was working for Channel 9, now free to commentate on Panthers games, while Griffin was in the commentary box for Fox League. There's no love lost between the pair and we doubt they caught up for a Scotch Finger in the media kitchen.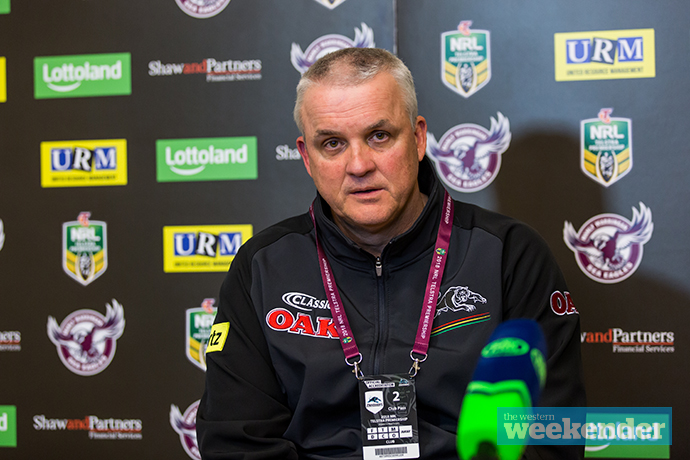 The Tyrone Peachey rumours keep going up and down like a yo-yo. A few weeks ago it was almost certain that Peachey was coming back to the Panthers in 2020, but over the weekend reports emerged that he may be willing to stick it out on the Gold Coast under new coach Justin Holbrook. This week however I've heard that the Peachey deal is still on. Penrith will certainly have the money, but still believe Peachey is over-priced.
Spotted: Grant Atkins, fresh from refereeing the Panthers v Sharks match last Friday night, shopping at Westfield Penrith on Saturday.
Staying on brand, Panthers halfback Nathan Cleary sat down to watch 'All or Nothing' this week, a docuseries focused on the Carolina Panthers in the NFL.
For those already eagerly awaiting the 2020 NRL Draw, I've been told that the opening game of the new season will be hosted by the North Queensland Cowboys at their new stadium.
How good was it that the Panthers didn't warm-up on the field last Friday night? It was the first time in years they stayed behind closed doors, adding to the atmosphere for both the fans and players. It wasn't the only shake-up to the match-day routine for the Panthers, with Ivan Cleary coaching from the touchline for just the second time this season and the first time at home.
Recently a Penrith City Councillor suggested more statues are needed of prominent people from the Penrith area. It got me thinking – where's the Brandy or Royce statue at Panthers Stadium?