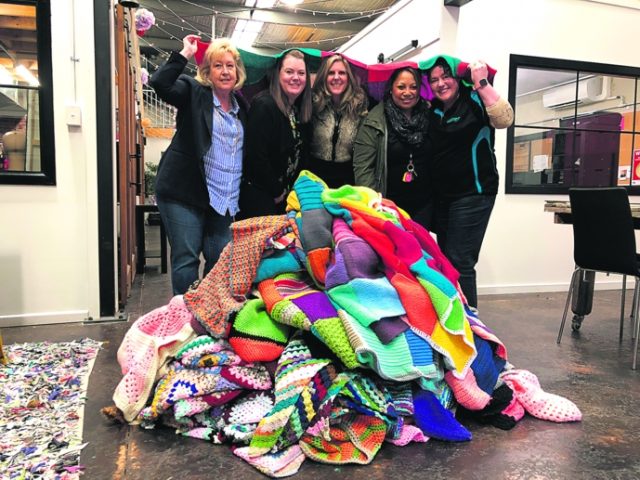 The Creative Fringe's 'Think Outside the Square' initiative concluded last week, sending 93 knitted blankets to the community's most vulnerable just in time for the cold winter snap.
Both local and interstate volunteers have spent months dedicating hours upon hours to knitting and crocheting 20cm by 20cm squares, which have been made up into beautiful coloured blankets.
Distributed through Westcare Community Services and Penrith Community Kitchen, the blankets go beyond simply providing warmth but act as a gesture that shows just how much the community cares.
Penrith CBD Corporation CEO, Gai Hawthorn, said giving these gifts allows people to realise they are worthy and not forgotten.
"It's about everyone, it's great for people to get together to knit, which is great for mental health and prevents isolation but also shows the homeless or underprivileged who don't always like to ask for help that people really do care about them," she said.
"All of our volunteers and the Caddens Knitting Group in particular have been spectacular this year and they've allowed us to probably double what we've done in the past, which has been great. It really brings the community together."
Over the past three years, the initiative has seen a total of 220 blankets donated to struggling locals.
Westcare Emergency Support Services Manager, Margaret Seumanu, detailed an experience she had recently when she gave some of the blankets to a single mother and her six children.
"They had just moved into their own home after escaping domestic violence and needed assistance and when I delivered it to her she was surprised and very grateful," she said.
"When people are fleeing domestic violence, they flee with next to nothing and they need as much help as possible so having the blankets is great help but also makes them feel valued."
Community Services Coordinator, Lyndy Waddington, helps distribute the blankets to a number of local organisations like Nepean Hospital and Adele House, which she said makes an enormous difference in the recipient's lives.
"Adele offers drug and alcohol support and they value them so much, a lot of these guys come out without anything, they feel like they are worthless and they want to turn their lives around and to get these hand knitted blankets makes a real impact for them," she said.
Creative Fringe CEO, Debbie O'Connor, said she was blown away by how many blankets were made this year and thanked the community for their continued generosity.
A graduate of Western Sydney University, Nicola Barton is a news journalist with the Western Weekender, primarily covering crime and politics.