If your son or daughter enjoys playing touch football during lunch time at school, they can now show off their skills in an actual competition.
Penrith Touch Association is currently recruiting players for its upcoming junior summer competition, to be played at The Kingsway Fields in St Marys.
The local association is now looking for male and female players aged between six and 16-years-old to get involved.
The competition will run across two nights: Monday and Wednesday. Monday nights will see U6 mixed, U8 mixed and U10 boys and girls teams take the field, while on Wednesday night U12, U14 and U16 boys and girls teams will attempt to cross the line.
Penrith Touch Association Junior Coordinator Joanne Harris said the local competition has been running successfully for more than two decades.
"I initiated it around 25 years ago, it's been running for a very long time," she told the Weekender.
"Our competition includes kids of all ages, we are very flexible and we don't knock anyone back."
Kids can create their own teams of 10 or you can register your child into a 'player pool' and have Penrith Touch find a team for them.
"You can create your own team but if you're just a one-off player, they just need to register in the player pool and we'll find a team for them," Harris said.
"Last season we had 120 kids in the player pool and we created around seven new teams, and the rest we added into already established teams.
"The player pool is a winner for juniors, you've got to find a way to get them in otherwise you'll lose them to another sport."
Touch football has been a fixture in Penrith since the mid-1970s and is still as popular today as it was all those decades ago.
In recent years the sport has partnered with the National Rugby League, which has only increased its exposure.
While touch football is a fun and safer alternative to rugby league, Harris believes the sport is perfect for families.
"With touch football, the whole family can play at the same time. It doesn't matter if you are sporty or not, it's a good fit for everyone," she said.
"As long as you can throw and catch a ball – that's all you need."
Registration costs $65 per player, with NSW Government Active Kids vouchers welcome. Registrations for the upcoming season close on Sunday, August 25, with the competition set to get underway on Monday, September 2.
For more information, text Joanne Harris on 0416 193 093 or email [email protected].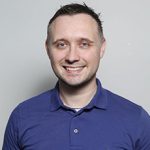 Nathan Taylor is the Weekender's Deputy Editor and Senior Sports Writer. He also compiles the weekly Chatter on the Box TV column. Nathan is an award-winning journalist, who has worked at the Weekender for nearly a decade.